Open-plan office space – how has it been developing over the years? The history of the open-plan office space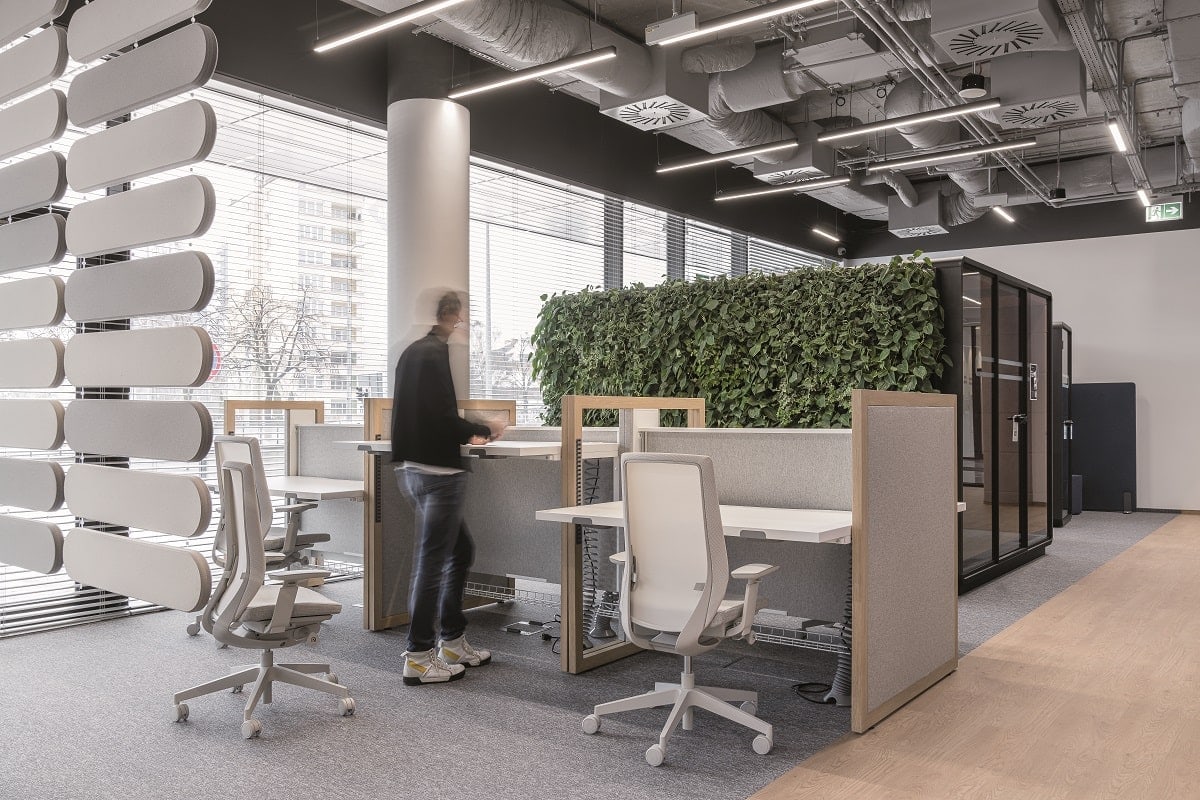 The way office spaces are arranged has undergone dynamic changes over the years. The growth of digitalisation, changing ways of working and work culture and new employee preferences have led to different concepts for open-plan office arrangement. The workplace of today is no longer just an office building located in the city centre, but first and foremost it is a multifunctional space, divided into zones with ergonomic furniture, reminiscent of a flat, local café and a meeting place. Let us take a look at the history of the open-plan space and how it has changed employees' perceptions of the environment where they do their work.
Open-plan space – what type of office is it?
The open-plan office refers to a large open area that typically has no partitions or other physical barriers that would separate various areas and workstations. In the open-plan office, multi-station working spaces are created, and they are sometimes divided into smaller clusters. It is often the case that desks are grouped into islands for better team collaboration. There are also independent stations for staying more focused on your task. The open-plan space requires thoughtful design and flexible modern office furniture to improve privacy and acoustics – the factors that employees complain about most often.
The history of the open-plan office space – how did it start?
The exact date of the emergence of the open-plan space is difficult to pinpoint for certain. Office work has a history of many years of change and development.
The first offices appeared during the Industrial Revolution as a result of the demand for administrative support for rapidly expanding factories. Located in warehouses or factories, they were nothing like the well-kept green spaces of today's businesses though.
It was not until the 18th century that special office buildings began to be built.
In the 1960s, the so-called Bürolandschaft movement was involved in experiments with different office layouts in order to find the most efficient solutions.
Noise and lack of privacy in the open space prompted the search for new concepts. In the late 1960s and early 1970s, Robert Propst's Action Office concept became popular. He designed a modular office system that would adapt to the needs of employees in order to facilitate communication and collaboration. However, large corporations have simplified Action Office assumptions, which resulted in 'cubicle farms'. We are familiar with that landscape of small cubicles packed closely to each other, which mainly remains a thing of the past.
The development of teleworking, the result of technological progress in communication and data transmission, began in the 1990s and has continued to this day. This encouraged a new look at how the office should function.
Who is believed to have invented the open-plan office concept?
Architect Frank Lloyd Wright is credited with this advancement, as he was the one to promote in the early 20th century the idea that walls and closed rooms in the office served no good purpose. According to him, open space improves creative thinking, communication and removes barriers between employees. Many companies, however, used to interpret this concept slightly differently. Rather than focusing on the social aspects and improving the quality of work, corporations saw that open spaces will allow more employees to be crammed in less space, thus lowering rental costs.
In the 1950s in the United States, the open-plan office space began to resemble factory floors, where people worked in a single room and the loud sounds of typewriters, telephones and conversations were a day-to-day reality. Those in senior positions tended to use separate offices that were a symbol of their position in the company.
Open-plan space concept evolution
The concept of open-plan space has evolved over the years as it has adapted to the changing needs of employees and organisations. A key moment in this transformation was when the German architectural firm Quickborner marketed modern desks in 1950. The workstations were separated from each other by small partitions. This arrangement gave employees more privacy and a sense of having their own space. The idea quickly caught on to became standard in many offices around the world.
In Poland, the open-plan work space system gained popularity in the 1990s, when, after the political transformation, large international corporations began to start their offices in this country. Although it has been in use for many years, open-plan office design is still favoured by organisations, albeit in a more modern form.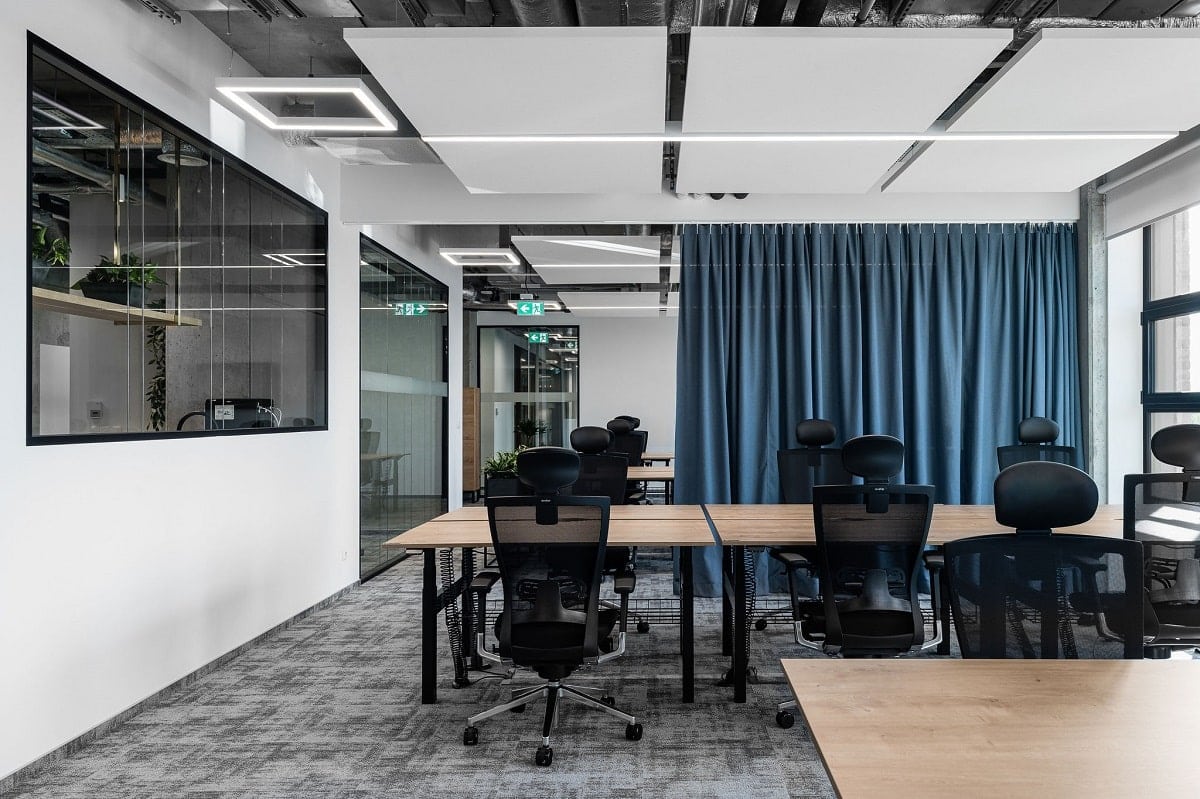 The evolution of open-plan work – the present and the future
The evolution of office spaces over the years has come to a point where designers of modern open-plan spaces are keen to use home office design and draw on Activity Based Working or Agile Working concepts. In modern open-plan offices, they have begun to combine approaches developed over the last 100 years. Collaboration is balanced with privacy, and efficiency goes hand in hand with comfort. The contemporary open-plan space offers areas for meetings, team brainstorming and individual work. The barrier-free office has provided employees with a variety of workspaces to support their well-being, health, efficiency and creativity.
The hot desking concept – workplace selection
Developments in technology and the popularity of working in hybrid mode have meant that people want to be able to do their work from anywhere – not just within the company, but around the world. Employees are no longer tied to their workstation, and the diversified nature of the work they do (video calls, client meetings, brainstorming, teamwork, phone calls) means they spend less and less time at a standard desk. This is why more and more organisations are choosing to introduce hot desks, which are part of the trend towards flexibility and mobility.
A workspace system in which an employee has no assigned desk when arriving in the office and takes any desk that is not occupied is ideal for companies operating in a flexible hybrid model. The advantages of introducing hot desking include keeping your desk tidy, staying in touch with people outside your department and being able to move freely, to name but a few.
What our expert says
Caring about staff well-being means that, for this approach, Stand Up R height-adjustable desks are the best choice. Thanks to proprietary adjustable worktop systems, their height can be easily adjusted to suit a person's height and to enable standing-up or sitting positions. It is a remarkably versatile piece of furniture, as several of these desks linked together create a solution that provides both private and shared workspaces
– says Eliza Donek, Product Manager at Mikomax.
You can read more about how to effectively incorporate hot desking into open space in our company blog Why it is worth introducing hot desking in the office. How to do it well?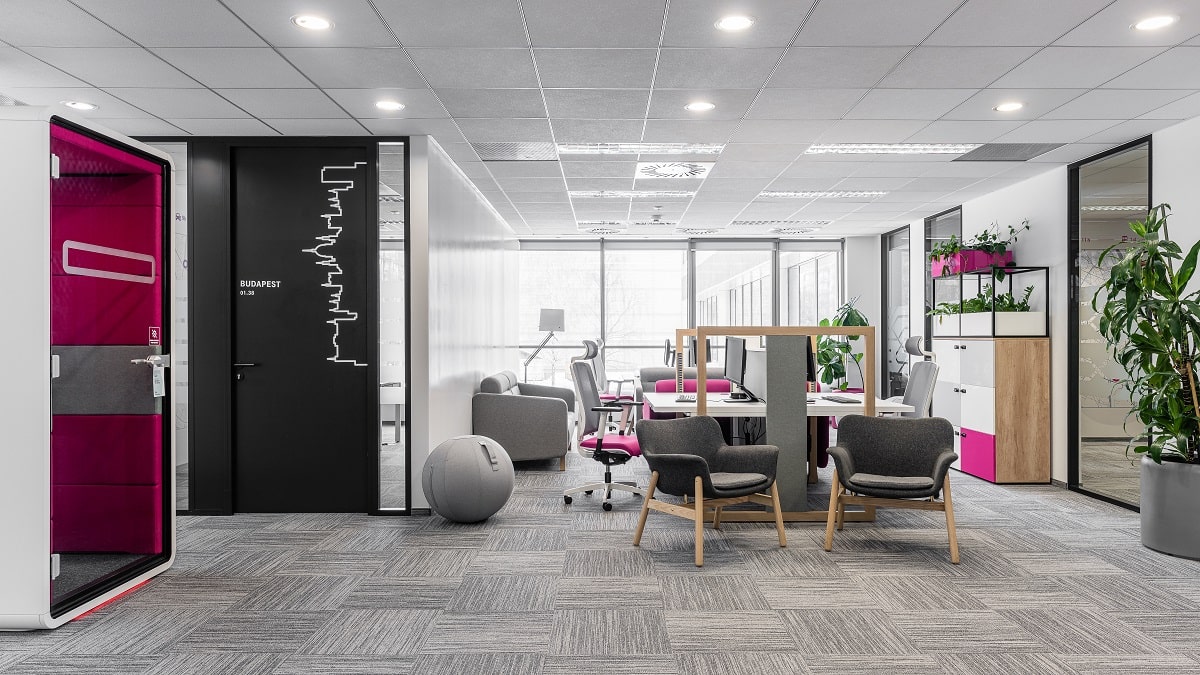 Open-plan office divided into zones – common but separate space
When arranging modern open-plan offices, designers are currently trying to reconcile two needs – collaboration and privacy. This translates into the concept of a variety of zones in the open-plan space, which are adapted to the specific needs and tasks carried out by the teams.
A noticeable trend is the use of mobile partitions in open space, which allow contemporary desks to be separated, when need arises, from sources of noise (printers, colleagues having lively discussions). They provide privacy and shelter from distractions while remaining open. The Soniq mobile partition system, which can be arranged in rows and perpendicularly, allows the creation of a workspace for small teams or individual space for conceptual work. They are fitted with castors in their stabilising feet for more mobility available at all times. All this brings about the office of the future – a space that is attractive, functional and flexible, as well as it can be adapted to the changeable requirements of employees.
You can also read Divide and conquer – with the SONIQ modular office wall system
Multifunctional space in the open-plan space – one space, many possibilities
In order to adapt open-plan offices to the dynamically changing needs of employees, flexibility of arrangement is essential. For this purpose, free-standing tree-like partitions are ideal. They can improve acoustic comfort by being 'planted' anywhere in the office. They can also be an interesting decorative element, which additionally fits in with the currently popular biophilic design.
Modular and wheeled furniture allows the space to be easily transformed by changing its character, depending on the situation, from a workplace to a chillout zone to a business meeting area. The Ligo cubicle system allows a variety of combinations to be created, from desks and shelves to seating and storage spaces. Their versatility and ease of rearrangement make them ideal for the dynamically changing environment of the modern office.
Chillout zones in the open-plan space – shared space not only for work
In a modern open-plan office designed according to the concept of well-being, which supports the physical, mental and emotional health of staff, it is important to create appropriate communal spaces. Smaller chillout areas, large chillout rooms with hammocks, designer sofas and couches, coffee tables and entertainment areas are where relationships start, problems are solved or the best ideas come to mind. Also, they are places that you can relax and refresh in on comfortable soft seating furniture after long hours of being focused on a task, talking to a contractor or brainstorming.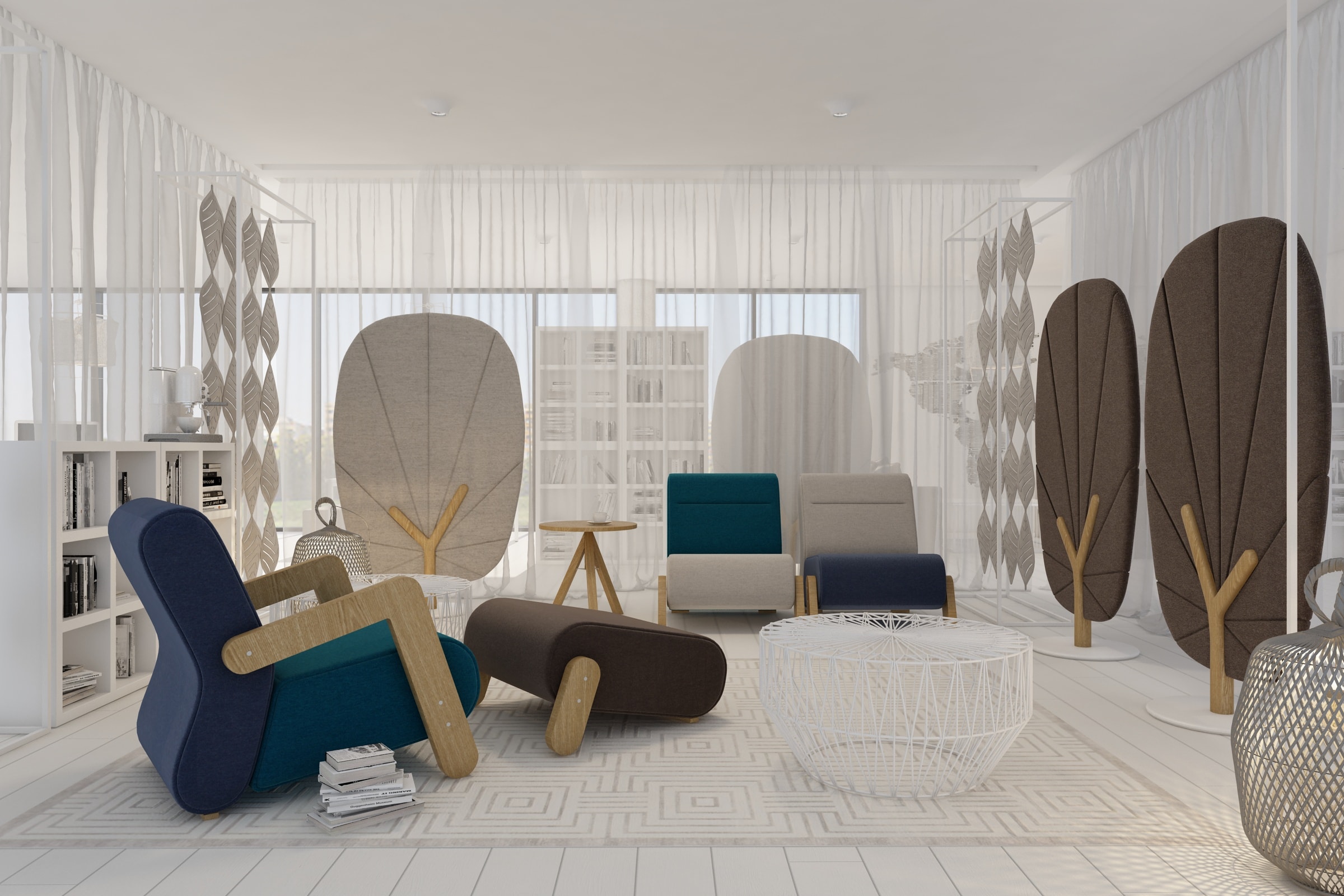 Biophilic design – open-plan office closer to nature
Biophilic design is not just a fad in interior design, but a genuine desire to get closer to nature, with a host of benefits to offer. This approach in open-plan office spaces is expressed with unique places that are both elegant and harmonious, reflecting the power and beauty of nature. Elements such as natural light, plants, water, wood, stone and green walls transform the space in such a way that the user feels more relaxed, focused and happy.