How can you use office sofas to create a modern chillout zone?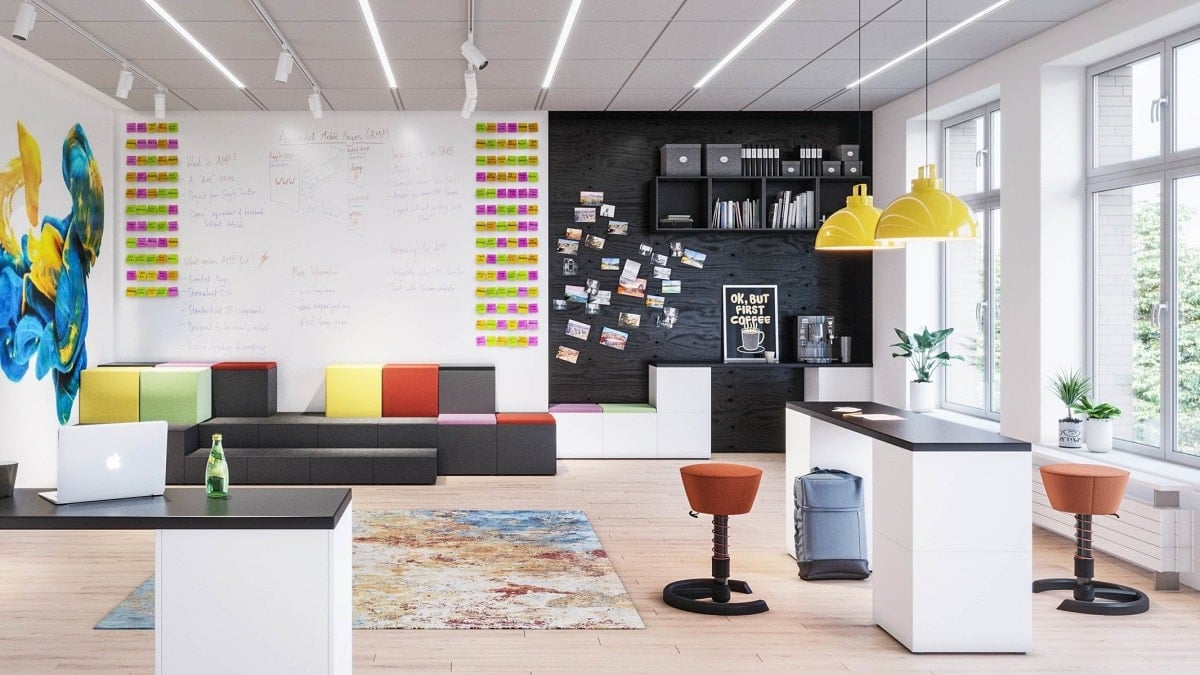 When furnishing a flexible hybrid office that responds to the employees' preferred ways of working, it is worth taking care not only to provide ergonomic workstations, but also adequate space for relaxation. Companies that arrange this space well will make it more than just a place to eat lunch. It will become a real multifunctional space where people enjoy taking a break from the hustle and bustle of the office, sharing ideas or relaxing after finishing a difficult project. Find out how to create a relaxation zone in your organisation with the help of modern, solidly made and designer office sofas.
Work is not the only thing that matters in life. Why create a modern lounge area in the office?
Until recently, there was a belief in many companies that staff were expected to carry out their duties when at work and had time to relax at home. Only an employee that is sitting at a desk is bound to work, whereas arranging a chillout room would result in the employee being distracted from their duties. Today, fortunately, many organisations see the right to relax and have a moment of calm from the flurry of tasks, deadlines and subsequent video conferences as key elements in maintaining the high productivity of the people employed. More and more companies are choosing to create a chillout area where staff can relax and recharge their batteries before returning to their duties. Research from the University of Warwick found that employees who are satisfied with their workspace are on average 12% more effective than those in the control group.
Where do you start when designing a place to relax and recuperate at work?
Relaxation zones in modern offices are not just a place to enjoy a coffee. Employees in an open, noisy office mainly associate relaxation with domesticity and cosiness. These are separate places in which to calm your thoughts, providing a degree of privacy. Whether it is a chillout area created in a separate room or separated from the open space by mobile acoustic walls, the soft seating in such a space has a very important function. It is perfect for flicking through magazines with a cup of coffee in hand, listening to relaxing music, having casual conversations with colleagues and taking a nap in a comfortable position.
Determination of purpose – communication, regeneration, integration
An office chillout area can serve a variety of functions, so when designing it, it is worth establishing what its main purpose is to be.
According to the expert
A relaxation area equipped with armchairs, pouffes, sofas and tables promotes communication, making new friends and a relaxed atmosphere. Chatting with colleagues in the office reduces stress and also stimulates creativity. Placing a variety of games in the chillout zone improves team integration and provides entertainment to help relieve the tension that comes with fast-paced work. If the company's business relies heavily on telephone contact with customers, the rest area should offer a space for calming and recuperation. Being able to spend a moment in a quiet place can be very valuable for employees
– says Eliza Donek, Product Manager at Mikomax.
Chillout room – is it worth it?
If the office space is large enough, it is worth ensuring that a separate chillout room is set up. Every employee needs a moment's rest from the noise of an open space or from intellectual exertion. A well-arranged chillout area at work not only influences staff efficiency, but also improves comfort in the office, which will result in lower staff turnover. In addition, such a room can provide an element of differentiation for the company from its competitors and attract new talents to the workplace.
Reset in the relaxation area
Owners of smaller offices should not give up on creating a place for employees to rest and recuperate. Even a small space set apart from the rest of the office will enable employees to reset, take a break from their problems and improve their well-being. This zone can be separated using free-standing tree-shaped acoustic walls or Soniq acoustic walls. They will not only help to improve its acoustics, but will also be an attractive and functional addition to the office design. They can always be repositioned if necessary. Designer office sofas with a headrest will ensure an ergonomic resting position as they support the head and neck and relieve pressure on the spine. Upholstered furniture made from high-quality materials makes the space feel more cosy and inviting for a moment of relaxation.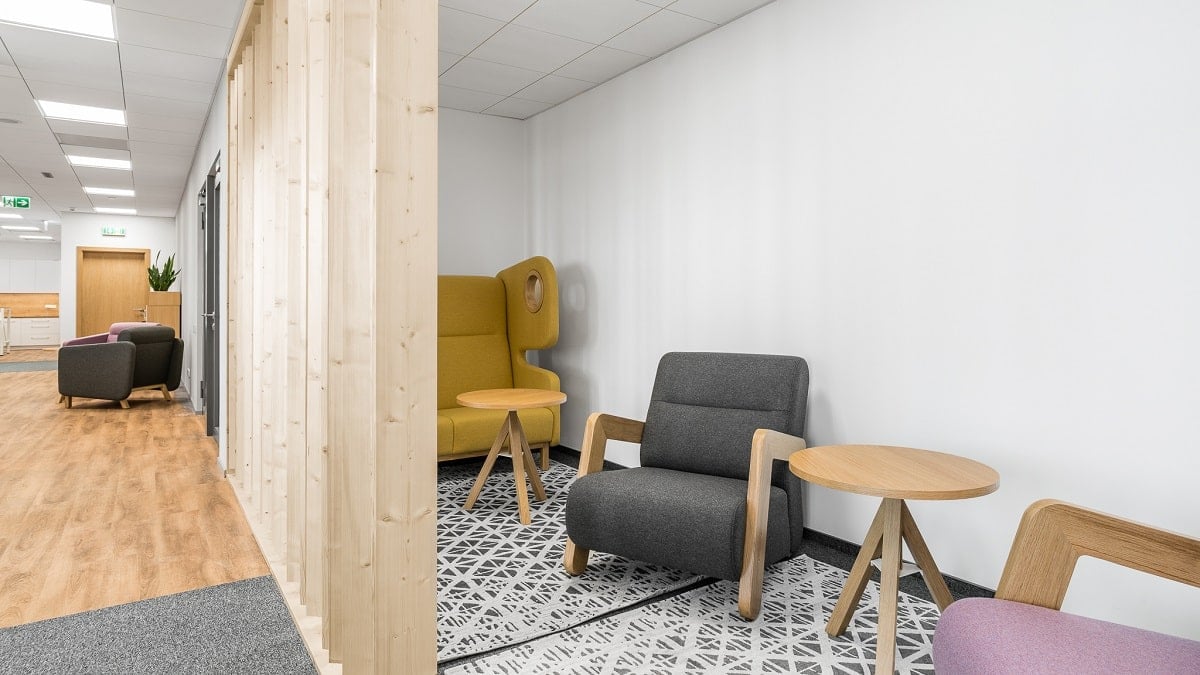 Lounge area – what it is and how to plan it
The lounge area is a special space in the office that allows employees both to have business meetings in a relaxed atmosphere and the opportunity to relax. Its size should be matched to the number of people employed. Care should be taken to ensure that the lounge area is functional, elegant and comfortable for users. Here, it is worth using modern furniture, which allows for flexible use and movement as required. Adjustable tables and desks are an important part of the arrangement, as well as the correct positioning of electrical sockets to ensure that users can work freely in the business lounge area.
The importance of multifunctionality in 21st century offices
The desk has long ceased to be the only place for professionals to perform their duties. Nowadays, it is increasingly important to be able to quickly adapt a space to different purposes and tasks. Multifunctional solutions make it possible to tailor the rented space to the employees' tasks.
Modular furniture is an indispensable part of the ergonomics of hybrid offices, where space is required for meetings, video conferencing, conferences or relaxation. It allows one room to serve several functions and employees become the architects of the space.
Soft seating in office design
Soft seating furniture such as soft sofas, armchairs or pouffes placed in the chillout area provide comfort during a break from work. Its attractive design makes it a popular choice not only for the relaxation area, but also for offices, open spaces or reception areas. Made of high quality materials, perfectly finished, very comfortable. With the right design, it allows employees who spend long hours at their desk to take a break and relax. Pieces of soft office furniture can be freely combined with each other. Available in a variety of shapes, sizes and colours, the pieces can fit perfectly into any office setting, adding style and elegance.
Designer seats, armchairs, pouffes and seating balls
Nowadays, a comfortable office is not only about ergonomic desks, but also furniture for areas intended for informal business meetings or relaxation. Companies pay attention to the design and aesthetics of their office spaces, which affects the comfort and well-being of employees. In addition to traditional armchairs, designer seats, pouffes, swings or seating balls are available to create a unique atmosphere that promotes creativity, concentration and relaxation.
How to create a functional chillout zone in the office using modular seating
To achieve this, start by choosing a suitable office location, preferably away from noise and traffic routes. Then choose modular seating that offers a variety of configurations and customisation – consider sofas, armchairs, pouffes and cushions. When planning the layout, think about creating a cosy atmosphere, using plants, lighting with warm tones, and carpets or textiles. In addition, a varied palette of colours and materials will allow the arrangement to match the style of the office. Remember to tailor the layout of modular seating to the needs of your employees – it is worth considering options that allow for free configuration,
Ligo modular cubes – moveability allows you to do more!
Ligo cubes, or modular office furniture, are an innovative solution revolutionising the world of workspaces. The system comprises 8 different elements from which a range of customised furniture can be built in minutes. Whether you need to create efficient workstations, comfortable relaxation areas or functional meeting rooms – Ligo modular cubes are perfect for any situation. By combining the elements, it is easy to create sofas, armchairs, loungers or tables, which, depending on your needs, will allow you to relax, take a nap or sit down to enjoy a cup of coffee or chat comfortably.
Thanks to their mobility and ease of modification, such solutions are an excellent choice for offices with small spaces. They allow you to enjoy greater freedom in shaping your space, saving time and resources. With its minimalist form and up to 40 colours to choose from, the Ligo modular cube system will fit in with popular design trends, while at the same time providing freedom to create your surroundings.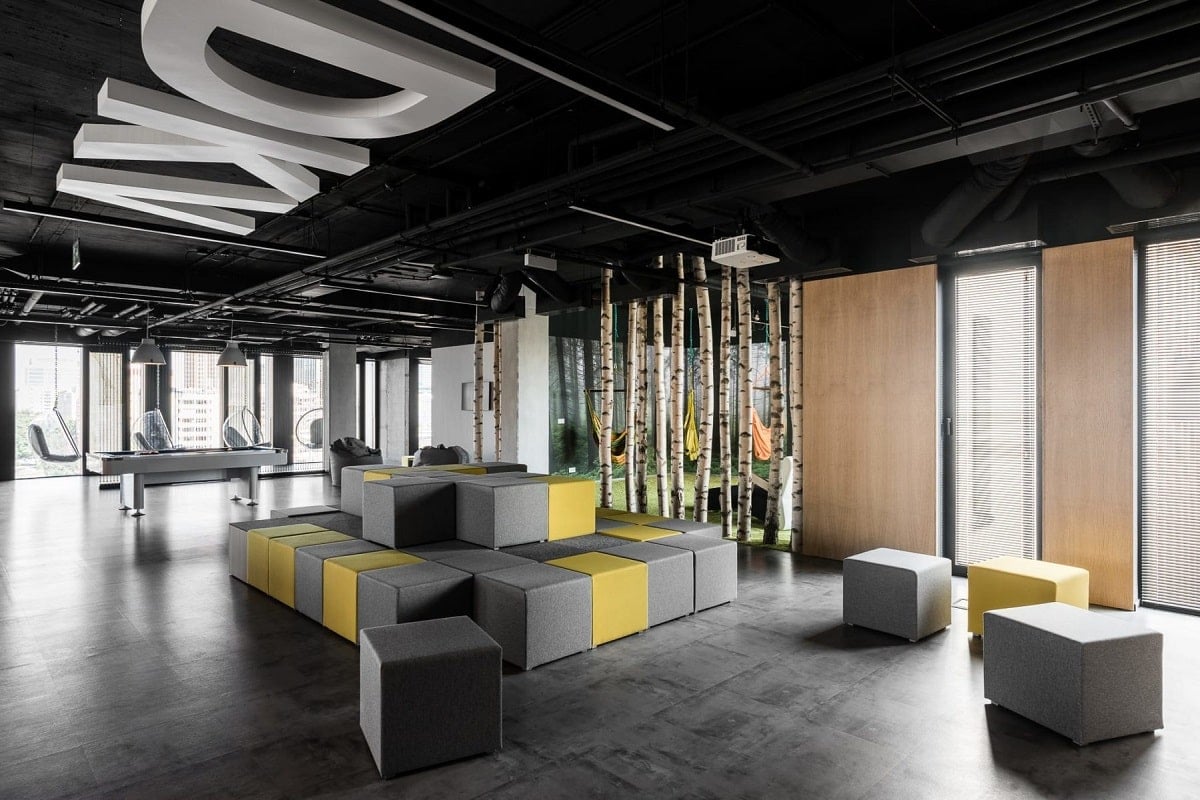 Office chillout zone – luxury or necessity?
Generation Z, now entering the labour market, has increased demands on working conditions. Therefore, offices should already be undergoing changes to become welcoming and attractive places.
Breaks to relax, catching one's breath away from the monitor or taking a moment in a comfortable chair improve concentration, reduce stress levels and boost creativity. As a result, a lounge area or chillout room in the office is becoming not so much a luxury but almost a necessity. A properly designed break area can bring a number of benefits for both employers and employees. It improves the well-being of the team, increases productivity and helps attract new talent.