Office like home. What makes employees feel at home at work?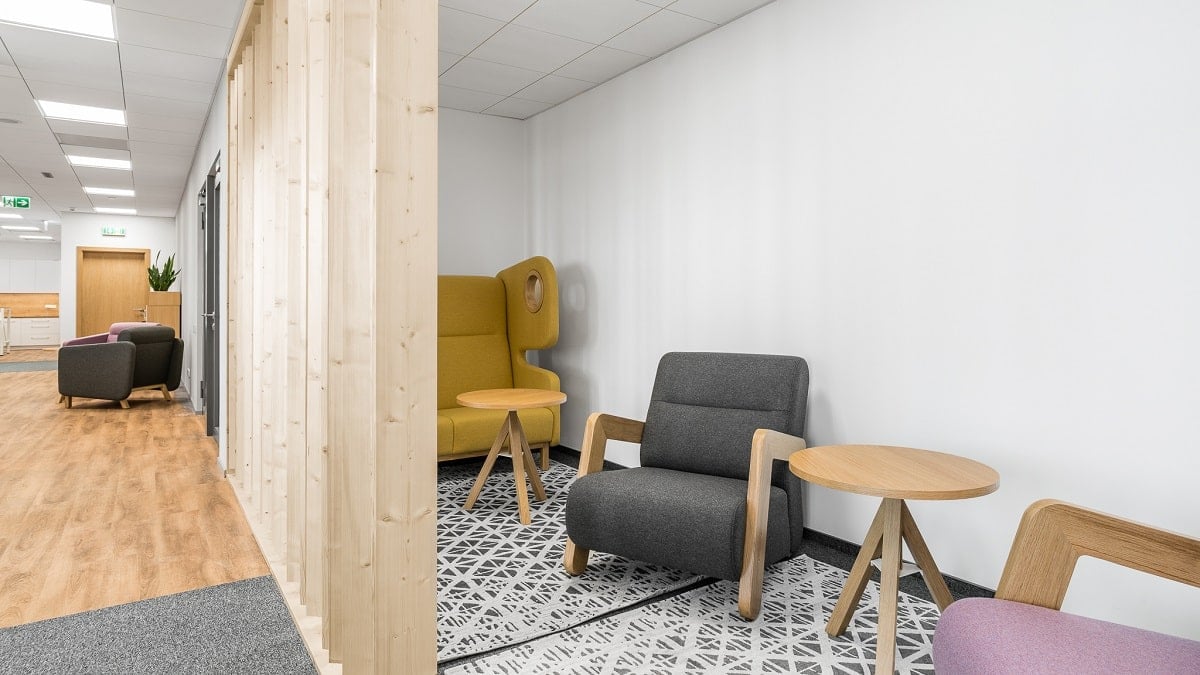 As a result of the pandemic, a significant proportion of professional responsibilities have moved home. After months of isolation, many employees appreciated the opportunity for contact that the office space provided. After the initial exhilaration of working from home, people started to see the downside. Today, flexible hybrid offices have gained the most popularity. Employees value flexibility in their choice of workplace. They do not want to return permanently to the company's office, while at the same time they need the right space in which to collaborate with other people and socialise. This situation has resulted in the boundaries of the office being blurred and the culture of working from home has partly moved into corporate interiors. Find out how to achieve a homely atmosphere in the office with the right furniture.
The office – a space open to interaction between employees
The office is a place that fosters integration and the building of strong professional relationships. Thanks to the open layout of the space, barriers between teams disappear and the exchange of ideas and thoughts becomes more natural. In such an environment, employees have the opportunity to get to know their colleagues, which promotes a better understanding of their needs and expectations. The shared space creates a good environment for spontaneous conversations and discussions, which often lead to creative solutions. An office that is open to employee-to-employee contact not only strengthens professional bonds, but also influences the sense of belonging to the organisation and job satisfaction.
Are boring desks and austere open-plan spaces a thing of the past?
Nowadays, more and more companies are realising that the working environment is of great importance in terms of productivity, creativity and employee satisfaction. Office décor, colour schemes and thoughtful space arrangements influence the team's energy and motivation levels. Business owners and designers are well aware of this, which is why monotonous offices with white walls and rows of desks lined up next to each other are giving way to modern and inspiring work spaces where colleagues feel more at ease. Innovative solutions such as relaxation zones, creative brainstorming areas and offices full of greenery are becoming the standard. Employers should strive to create spaces that support both the concentration and creative thinking of their employees.
If you want to find out what office spaces are currently the most popular, read the article: What makes a workplace the dream office?
In slippers and with no dress code. Is this the future of offices?
Working in a hybrid model has a significant impact on the way employees use their offices. Many companies have decided to reduce their rented space and introduce shared desks. For more information, see the article: Is it worth introducing hot desking in the office? How can you do it well?
The 'Designing the office of the future' report by Colliers shows that remote workers come to the office mainly for meetings, collaboration and spontaneous interactions. It becomes logical, therefore, to expand the areas for collaboration and contact that influence relationships within the team. In addition, new generations of workers have different expectations of how and where they work. Soft armchairs, colourful carpets, bookshelves or posters from famous films are quite common design elements in offices. Sometimes you can sense the atmosphere of informality, casualness and openness from the very entrance.
Home office design, or home-like co-working
Home office design is the concept of arranging a co-working space with a homely touch. The office does not have to be austere and minimalist; it can be an extension of the home, and employees can feel comfortable from the threshold. People experience varying degrees of nervousness throughout the working day, which, through the formal style of the workplace, often stays with them for many hours. Performing duties in a cosy environment reduces stress and provides a sense of comfort, calm and relaxation, and this has a positive impact on productivity and creativity. In such an arrangement, there is no shortage of soft office furniture, colourful cushions and plants to liven up the space. Carefully chosen lighting and colour accents add character to the interior and make working in the office not only enjoyable but also inspiring.
How do you create a homely atmosphere in a large company?
Nowadays, companies are faced with the challenge of creating a space that, on the one hand, provides a place for employees to perform their duties in silence, work as a team, conduct meetings remotely or in person and, on the other hand, provides a unique company experience. Open space in the new style becomes a specific space, enhanced by additional common mini-zones and private corners with interesting seating, such as Packman armchairs and sofas that look like a character from a well-known game.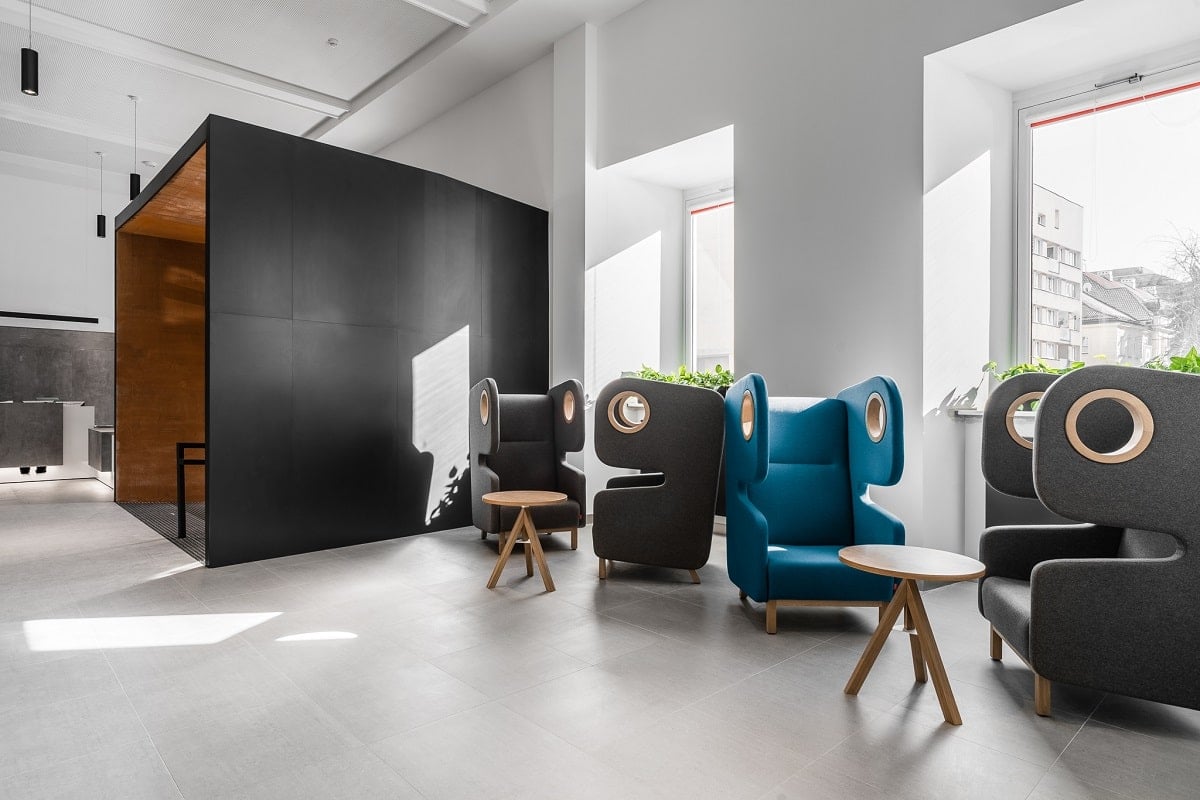 Elegant and functional upholstered furniture
Introducing comfortable and stylish upholstered furniture, can be a key element in creating a homely atmosphere in a large office. By investing in ergonomic sofas, armchairs or pouffes, you will create spaces for short breaks, informal meetings or conversations between colleagues. Such furniture, in addition to its functionality, brings warmth, softness and cosiness to the office space, associating it with a homely interior. When choosing upholstered furniture, it is worth paying attention to its quality, durability and ease of cleaning so that it will serve employees for a long time.
A conference room like a home living room
One aspect of bringing a warm, homely atmosphere to the office space is setting up the meeting room as a place that resembles a home living room. To achieve this, instead of classic, austere and heavy conference tables, it is worth introducing smaller, mobile ones. The Flipper folding tables are equipped with castors and a tilting top, so they allow you to optimise space and create a conference room that is tailored to your current needs.
According to the expert
The setup will be complemented by comfortable, stylish armchairs in place of office chairs to encourage casual conversation and more open dialogue. Additional elements such as carpets, paintings, plants or lighting with warm tones will give the space a cosy feel and thus promote a constructive exchange of ideas. This homely conference room arrangement can also increase the sense of team membership and influence better relationships between employees, which will translate into overall productivity and the company atmosphere
– explains Eliza Donek, Product Manager at Mikomax.
Closer to nature, or biophilic design
Biophilic design involves incorporating natural elements into interior design, such as plants, materials with organic textures (wood, stone) or lighting that imitates sunlight. Placing plants in the office is not just the whim of architects or the desire to create a homely atmosphere in corporate interiors. Surrounding oneself with nature in the workplace improves well-being, increases concentration and reduces stress. Introducing greenery in the office, whether in the form of plant pots, green walls or indoor gardens, can also contribute to improving air quality and the visual appeal of the space. By using biophilic design in your company, you will create a space that fosters relaxation, creativity and team integration, thus supporting the company's success on many levels.
A desk doesn't have to be boring
The key to creating a homely atmosphere is to create a space that promotes comfort, freedom and relaxation while remaining professional and productive. Sit-stand desks are an excellent example of how to introduce ergonomic elements that will affect employee well-being. By being able to change positions, they will can adapt their workstation to their individual needs and preferences.
In addition, when taking care of interior design, it is a good idea to separate individual desks from each other or to set aside special areas for quiet and teamwork. Mobile office walls, which enhance the sense of privacy and provide excellent sound insulation, can be used for this purpose. To maintain a homely atmosphere, opt for the free-standing partitions, which imitate the shape of a tree and are available in many colours. They can easily be used to separate and quieten the space, while giving the interior a cosy and unique feel.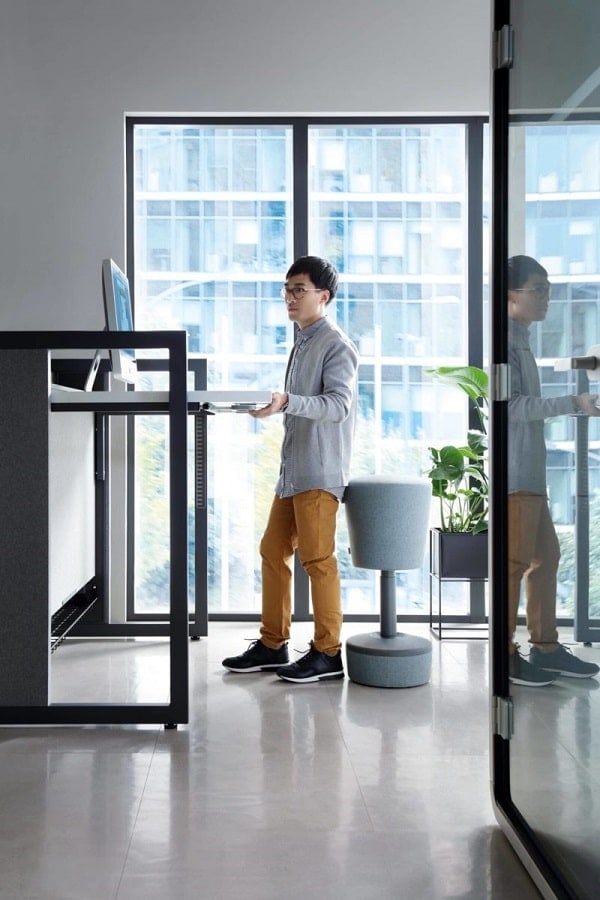 The right office lighting temperature – stimulating or calming the body
Creating a homely atmosphere in a large company can bring many benefits, such as increasing employee engagement, productivity and satisfaction. One of the key factors in achieving this is the right office lighting temperature. Friendly, warm light tones introduce a relaxing atmosphere that has the effect of reducing stress levels and increasing feelings of security. Colder light, on the other hand, has the ability to stimulate, so it should be placed in areas that are used for concentrated work and maintaining focus. The right combination of these types of lighting, together with attention to detail, such as comfortable seating areas, relaxation spaces and plants, will help to create a sense of homeliness that will have a positive impact on the entire working environment.
Areas for relaxation
To increase efficiency and employee satisfaction, it is worth creating relaxation areas to encourage short breaks throughout the day. An office chillout zone equipped with comfortable furniture (sofas, armchairs, pouffes, swings or hammocks), as well as plants to improve air quality, will allow the body to relax and reset. These areas for board games, a reading room or a coffee area where employees can bond while taking a break from their duties. can also be designated using Soniq modular acoustic walls. Introducing a relaxation space into the company office will certainly contribute to building a friendly atmosphere that fosters collaboration and creative thinking.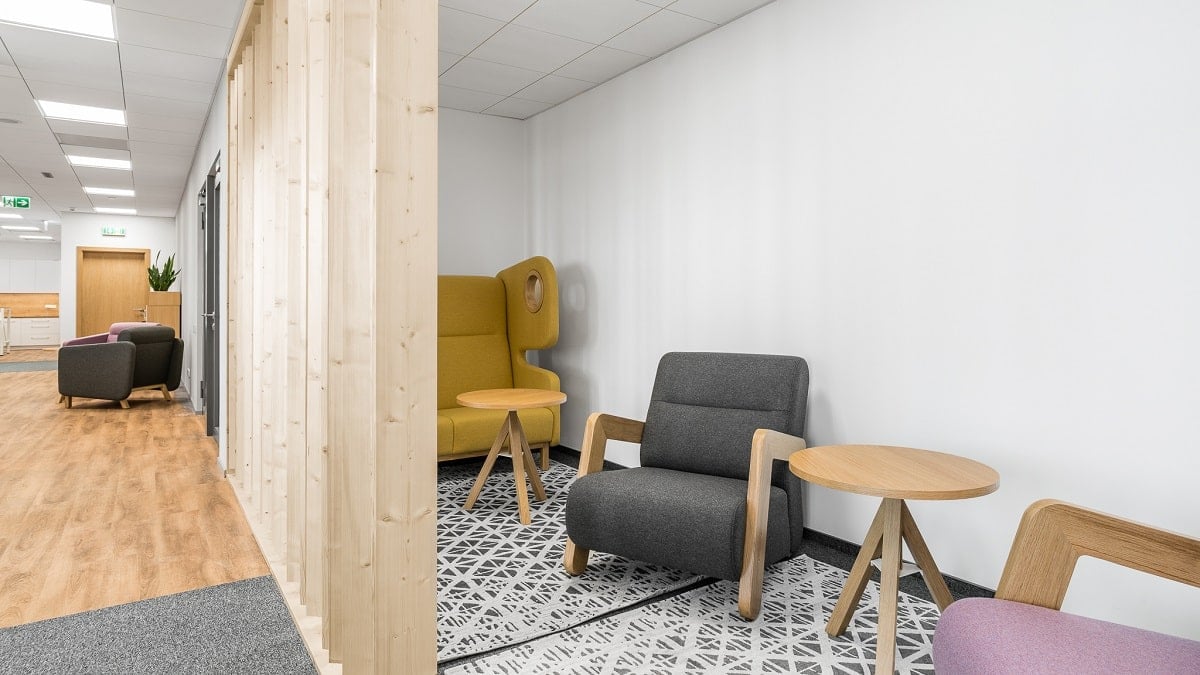 What are the benefits of homely office arrangement?
Home office design is an investment that pays dividends on both the emotional and business levels. Firstly, a cosy atmosphere is conducive to increased comfort at work, and this translates into a better sense of well-being and greater satisfaction with the tasks at hand. Secondly, it can reduce stress levels and improve concentration. Thirdly, an attractive and friendly working environment adds to the recruitment and retention of the best employees.
Is an office that feels like home the right approach?
Contemporary design trends indicate that designing an office along the lines of a home interior is an approach beneficial and desirable to employees. This approach to furnishing corporate spaces focuses on comfort, cosiness and functionality. This, in turn, translates into better employee well-being and greater commitment to their tasks. A home-like office is also conducive to building positive team relationships, which is what many people missed during the pandemic.
However, it is worth remembering that the key to success is skilfully combining elements of home décor with the professional character of the office. It is intended to meet the needs and expectations of today's workforce without losing its functionality and efficiency.