Multipurpose space – why is it essential in modern offices?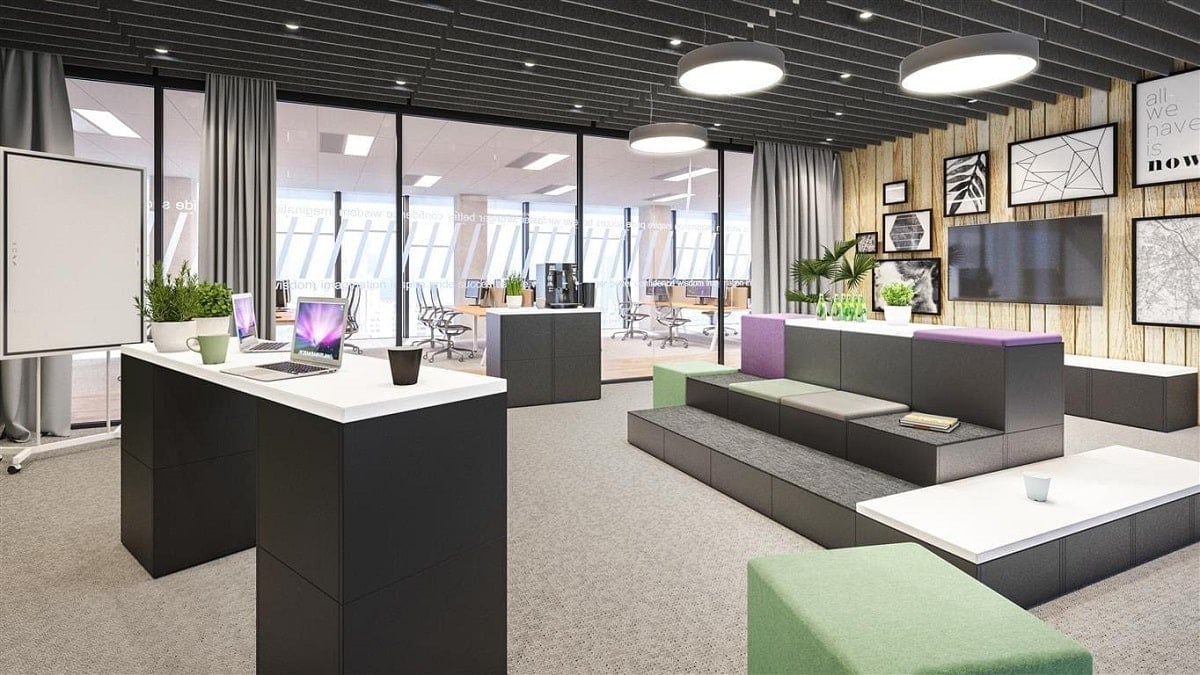 In an era of a rapidly changing labour market and increasing competition, modern offices are becoming a key element in the success of companies. The popularity of working in a hybrid model has led to the growing importance of multipurpose office spaces, which offer the flexibility to adapt interiors to a variety of needs. Modern offices are increasingly offering multipurpose areas to bear the weight of all the tasks that employees perform during an eight-hour working day. In this article, we take a look at what solutions are worth considering when designing and arranging a space to create the optimum conditions for work, meetings and relaxation.
What distinguishes a multipurpose space in modern offices?
Multipurpose space in flexible hybrid offices is a concept that is gaining popularity in the world of interior design and layout. It is distinguished by: flexibility, innovation and versatility. It guarantees efficient use of space and better adaptation to the dynamically changing needs of the staff and the company.
Adaptable to different needs and applications, it enables employees to switch freely between different working modes, such as meetings, presentations or individual tasks. In addition, these types of spaces are usually equipped with modern technology to facilitate communication and collaboration, both on-site and remotely. Ergonomic furniture and areas for relaxation and integration are included in the design. This fosters a healthy and sustainable working environment that attracts and retains talent.
Advantages of a multipurpose office space
Until a few years ago, companies were aiming to locate offices in modern office buildings to attract the best people in the job market. Nowadays, employees are more likely to choose organisations whose multipurpose space allows them to comfortably perform a variety of professional duties. Multipurpose offices are gaining increasing recognition from employers and employees. These types of solutions offer many benefits for businesses seeking flexible and modern spaces in which to run their operations, and also for staff who can work more efficiently.
Flexibility and adaptation to needs
Multipurpose spaces are extremely versatile – they have been designed to be easily transformed to adapt to the current task, e.g. a team meeting, presentation or joint work on a problem. Flexible office furniture, cabinets or modern conference tables make it possible to change the layout and character of zones in a room in a non-invasive way. Modular furniture makes it quick and easy to build solutions (like with Lego bricks) exactly as you need them. A meeting in a larger group, followed by a one-to-one chat with the boss and then an informal meeting with the client – modular solutions will cope with this frenetic pace of work.
Support for creativity and innovation
Multipurpose office spaces promote creativity and innovation because their open and thoughtful designs encourage the exchange of ideas and collaboration between employees. Access to different work zones, such as quiet rooms for concentration, team brainstorming spaces or relaxation areas, allows you to choose the best environment and be inspired to continue working.
Cost optimisation and increased productivity
The use of multipurpose office space optimises rental costs. In the hybrid working model, offices have not lost their importance, but the approach to them has changed. Management of the space should be more flexible, so that it meets the needs of the people who choose to carry out their duties within the company.
Improving communication and team integration
Open, multipurpose office spaces promote better communication and socialisation. With no walls separating the various departments, employees are able to exchange ideas and information freely, leading to better coordination of activities and effective problem solving. Shared social and recreational spaces provide opportunities for informal conversations and strengthen bonds between colleagues. This doesn't just translate into a better working atmosphere. Combining different ways of thinking allows for more creative solutions to problems that arise.