Creative office soft seating: how to arrange it well?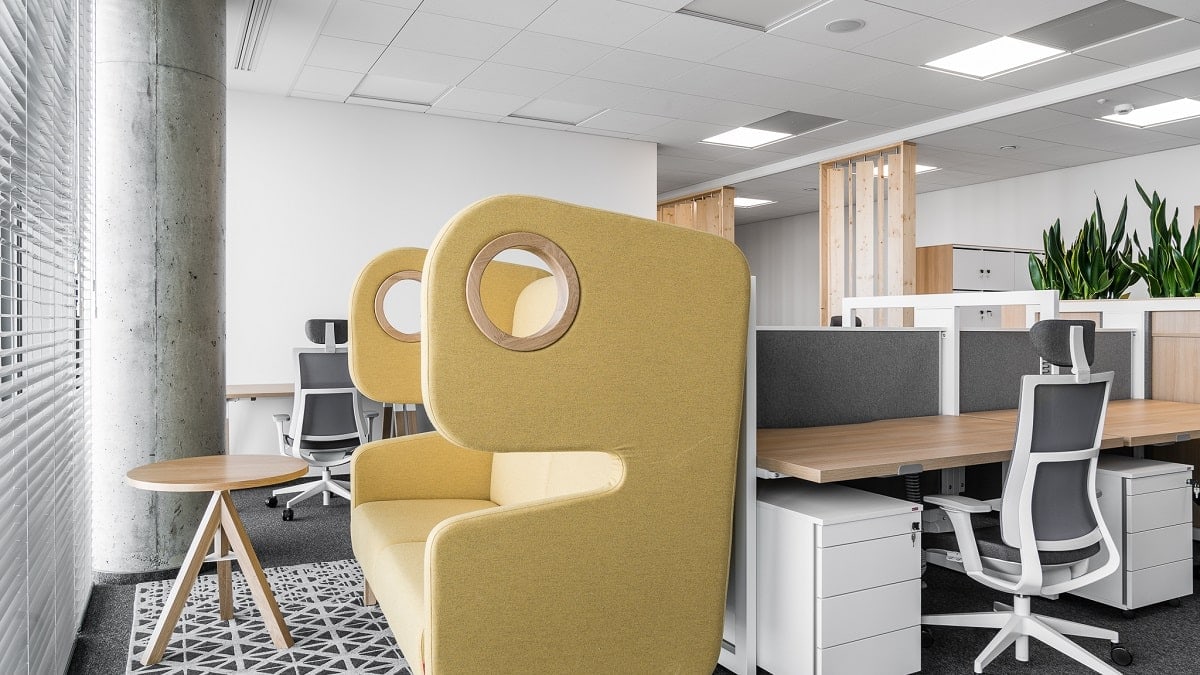 Creative office soft seating is a way to make work both more comfortable and more efficient. Employees spend most of the day in the office, so it is important to provide them with a variety of seating that encourages them to stand up more often, change positions and take short breaks. Companies that are looking to the future invest in innovative solutions such as collaborative spaces, rest areas and modular furniture. All to make employees feel more comfortable in their workplace. So where should these unusual, creative seats be placed so that they fulfill their function and support employees in their daily work? Please read this article to get the answers to these questions.
Why opt for soft seating furniture for the office?
Soft seating is readily used in the design of modern office spaces. Their main advantages include aesthetics and comfort, above all. Employees spend many hours in the office, so taking care of their well-being and health is important, as it affects the quality of work.
Separated from the open space by mobile office partitions, the spaces featuring upholstered armchairs, sofas and pouffes encourage relaxation and a momentary break from everyday responsibilities. Soft furnishings are ideal for informal meetings, short breaks or moments of respite. They bring warmth and a homely atmosphere to the office that fosters creativity and builds positive team relationships.
How to choose the right armchairs and sofas for the office?
Selecting comfortable soft seating furniture for the office is not only a question of aesthetics, but, first of all, of functionality and comfort. Think about what your team needs – do they often have informal meetings that require a laid-back arrangement? Or is individual focus a priority? Choose ergonomically shaped armchairs and sofas that support correct spinal posture and provide comfort for hours.
How do the colour and upholstery of the furniture change the atmosphere of the office?
The colour and upholstery of furniture in the office are important in shaping the atmosphere of the workplace. They can affect the mood and efficiency of employees. Light, pastel colours have a calming effect and promote focus, while intense hues stimulate creativity.
What our expert says
The materials used for soft furnishings for the office should be durable and easy to clean. It is a good idea to match the colours and patterns with firm personality and the purpose of the room. Organic, raw materials bring warmth and elegance to the space, creating a cosy atmosphere. In contrast, modern, smooth surfaces and metallic accents lend the interior a modern, minimalist feel
– says Eliza Donek, Product Manager at Mikomax.
Go to the article: What colours to choose for the office to boost employee creativity?
Innovative office seating: how does it transform the workspace?
Innovative seating is revolutionising the existing notion of workspace. It makes offices more flexible, addressing the diverse needs of employees. Contemporary upholstered furniture helps create multifunctional spaces that work perfectly for both focused work and informal meetings.
Introducing such solutions into the office has a positive impact on creative thinking and team relationship building. In addition, soft seating often combines innovative design with ergonomics, taking care of the health and comfort of employees. As a result, the office space becomes a place you want to be in, as work is more efficient and enjoyable.
Modular furniture: a flexible solution for the modern office
Modular furniture is the perfect solution for the rapidly changing needs of modern offices. It ensures the flexibility of reconfiguration and the ease of adaptation to current requirements. You can transform spaces quickly with them, whether for meetings, workshops or individual work. As today's offices are used for a variety of functions, modular furniture solutions combined with free-standing, tree-shaped acoustic partitions offer maximum adaptability and eliminate the expense of additional fittings.