Agile office design – a fad or a trend?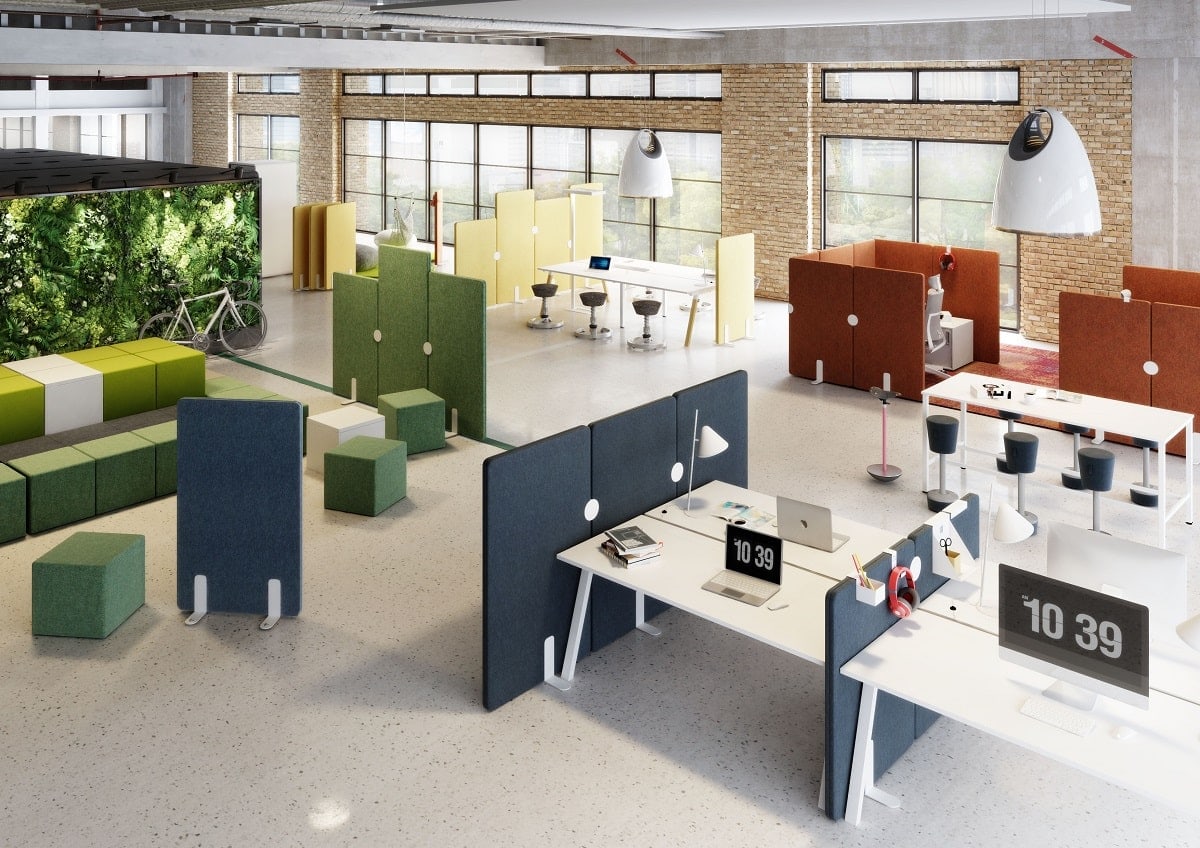 The office is no longer just a place where we carry out our professional duties – it has become an integral part of everyday life, affecting well-being, efficiency and job satisfaction. Whether employees feel motivated to be creative or, on the contrary, discouraged depends on its design. The arrangement of office space has evolved over the years, and these modifications have been dictated by a variety of factors – from new design trends, to changes in lifestyles, to the growing expectations of employees. Today's open-plan offices are moving towards a more flexible environment that adapts to different working styles. Read the article and find out whether dynamic space design is a permanent step forward in office design or just a passing fad that will fade when the next innovative concept comes along. What are the challenges facing companies that want to introduce such a model? Read the article to find out.
Flexible office – the future of space design?
Flexible offices are growing in popularity as they are able to meet the changing needs of employees. This new trend has many advantages, such as being adaptable to a variety of tasks, promoting collaboration and creative thinking, and adapting quickly to the evolving work style of the team and the number of employees in the organisation.
According to the expert
Despite the obvious advantages in terms of flexible workspace design, there are also challenges and concerns related to introducing such a concept. Among the most frequently mentioned are maintaining privacy in open-plan offices and noise control. Therefore, although dynamic offices seem promising, the future of this arrangement depends on the ability to balance benefits with challenges, as well as the appropriate adaptation of working conditions through the use of modern office furniture
– says Eliza Donek, Product Manager at Mikomax.
A change in approach to work organisation
More and more companies are recognising that it is no longer sufficient for an office space to merely serve as a workplace – it should now also foster creative thinking and inspiration and, above all, adapt to the diverse requirements of employees. This change is particularly evident in the context of so-called hot desking, where employees do not have fixed workstations, but select them on the basis of current needs. This means that the optimum office space needs to be versatile and adaptable to many ways of working – from quiet zones for focusing on complex tasks, to meeting rooms for team meetings, to open spaces for casual communication and collaboration.
Also evident is the growing popularity of solutions such as co-working spaces or space as a service, which allow organisations to rent office space with a full suite of services, without having to invest in permanent offices. This provides companies with more freedom to adapt to changes, such as remote working or project teams made up of employees from different departments or businesses.
What is dynamic office design and what is its purpose?
In today's office landscape, design choices need to focus on versatility more than ever. Companies are growing and changing their business strategies very quickly. They are taking on new challenges or completely revamping procedures to maximise efficiency and adapt to current labour market trends. Consequently, office spaces cannot remain static. The dynamic design of the office involves creating an environment that can be easily adapted to different needs, functions and uses. In this concept, one space can serve multiple purposes. It is an excellent choice for open-plan office spaces and small businesses that need to make use of the available space and create areas in the office for more than one way of working.
Dynamic office interior design makes use of many functional solutions. Modern modular furniture and partition walls – these are just two examples of such tools for use in space arrangement. They can be used to change the layout and also to adapt the space to a specific type of activity (meetings, creative work, relaxation, brainstorming, etc.). A flexible office promotes efficiency, innovative ideas and a good atmosphere. However, there is no one-size-fits-all recipe for making a project truly dynamic. Specific solutions must be chosen based on the needs of the company and the characteristics of the available space.
Co-working spaces
Currently, a hybrid working model is prevalent in many companies. For employers, it means that only some of the workstations located in the office are actually used. Co-working spaces are a key element of dynamic office design. These are spaces that provide a flexible, cost-effective and ready-to-rent working environment for companies across a range of industries. They can be located in an open space accessible to all or in a closed room dedicated only to the organisation's team.
They provide professionals the opportunity to work in a professional environment with access to full office and administrative facilities, including meeting rooms and breakout areas. The main objective of a dynamic office design such as co-working spaces is to foster collaboration and facilitate interaction and networking between members of the co-working community. In addition, such a concept is a response to the growing demand for flexibility and variability in work organisation. This translates into the ability of companies to adapt and innovate in a rapidly changing business world.
Popular hot desking
A popular solution in dynamic office design is the use of the hot desking concept. This is a modern model of space organisation that allows for flexible workspace arrangements. In this system, desks are not assigned to specific employees, but are available to anyone who needs to use them. This method maximises the use of space, especially in a hybrid working model, while providing a dynamic environment. It promotes flexibility and collaboration, and can increase employee engagement by offering them the opportunity to change their environment according to their current needs or preferences.
Within this concept, the  Stand Up R height-adjustable desks work best. This is an extremely versatile piece of furniture – several desks linked together create a solution that provides both private and shared workspaces. Seated and standing tasks can be performed comfortably at the same workstation, thanks to the height adjustment from 67 cm to 125 cm. These types of desks are also on the market with electric height adjustment, but the manual option can be more convenient for many people and allows them to change their working position without being distracted from their tasks.
Also read the article: Why it's worth introducing hot desking in the office? And how to do it well?