Soft seating furniture. How to create a welcoming space in the office?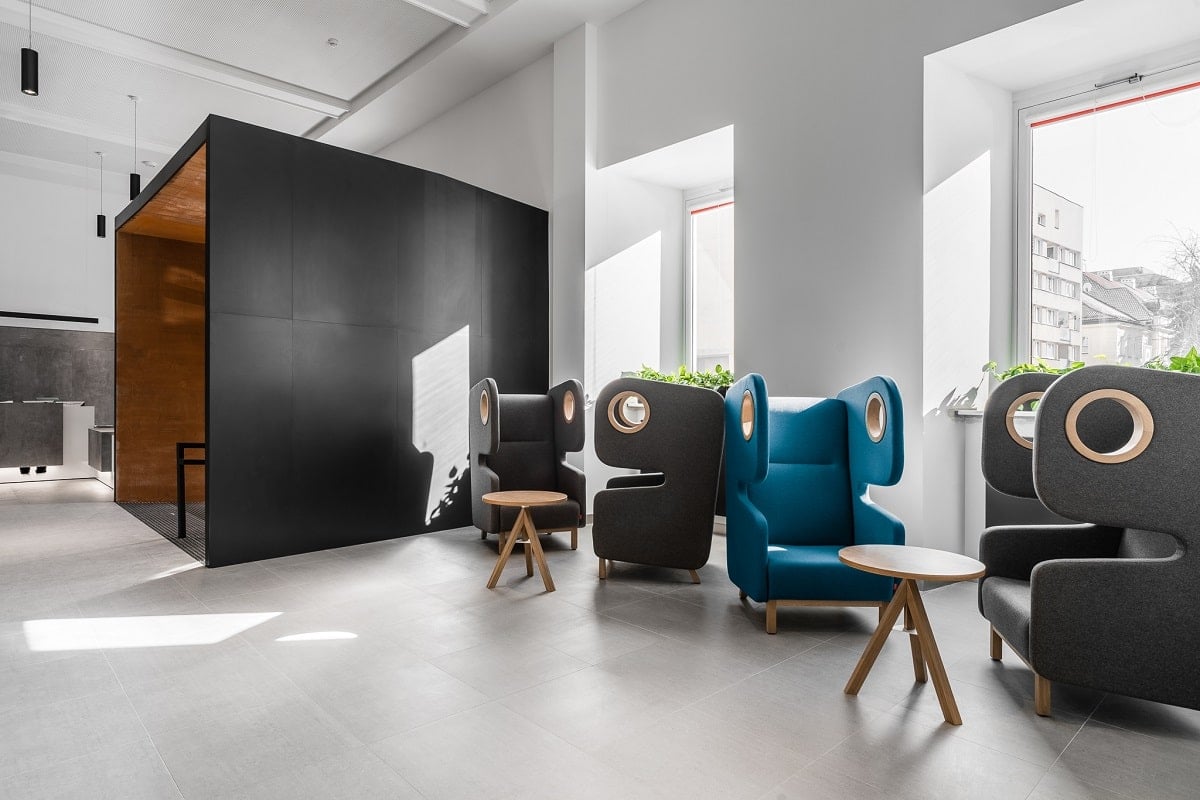 In the world of modern offices, where comfort and aesthetics go hand in hand with functionality, soft seating furniture is becoming a standard item of equipment. These are unique pieces that combine the softness and comfort typical of home sofas with the practicality and durability of office furniture. Solutions with interesting design and exceptional ergonomics are increasingly common. The boundaries between home and office are becoming more and more fluid, particularly in hybrid work mode, with upholstered furniture introducing home office design to organisations. But are soft armchairs and sofas popular only because of their looks and comfort? Are there other, more complex factors behind this trend? In this article, we discuss soft seating furniture in detail and the reasons for the growth of this phenomenon in offices around the world. Read on to learn more.
Soft seating in the office – relax, rest, talk
The term 'soft seating' is used in the furniture industry to describe a broad category of soft furnishings that are available in a variety of colours to best match the office décor and brand colours. Such furniture is often upholstered and comes with soft, comfortable seats and backs for an ergonomic sitting position. This category includes sofas, armchairs, pouffes and modular seating. The manufacturers of contemporary office furniture offer both classic, minimalist solutions and edgy attractive designs.
What our expert says
Office soft seating  blends features of both home and business furniture. Being as comfortable and cosy as our favourite living room sofas, on the one hand, they also have to be durable, where resistance to wear and tear and easy maintenance prove crucial for intensive use by many employees in open-plan spaces. With upholstered chairs, sofas or pouffes, offices become places where people can feel at home. This immediately improves their satisfaction, well-being and work efficiency. With a wide range of styles, shapes and colours available, you can employ soft seating in unique arrangements that will reflect the individual style and character of your office space
– remarks Eliza Donek, Product Manager at Mikomax.
Benefits of soft seating furniture in the office
Most importantly, soft seating promotes a friendly, more informal, homey atmosphere in the office. This can help to increase trust and openness among employees and promote greater collaboration.
Colourful upholstered furniture allows you to create unique arrangements that reflect the character of your organisation.
Contemporary, smart and functional sofas, couches and armchairs can significantly improve the image of a business, which will show new people, clients and candidates that it cares about the well-being of its employees.
The availability of different styles and colours helps to match the furniture with any interior, from traditional-looking offices to those with a more contemporary and creative design.
Staff health also plays a key role here. Well-designed soft seating furniture can improve posture, reduce muscle tension and stress, giving a boost to the overall well-being and health of the team.
Upholstered furniture absorbs sound, so placing it in an open-plan office will help reduce noise levels.