Privacy in an open-plan office. Is discretion even possible?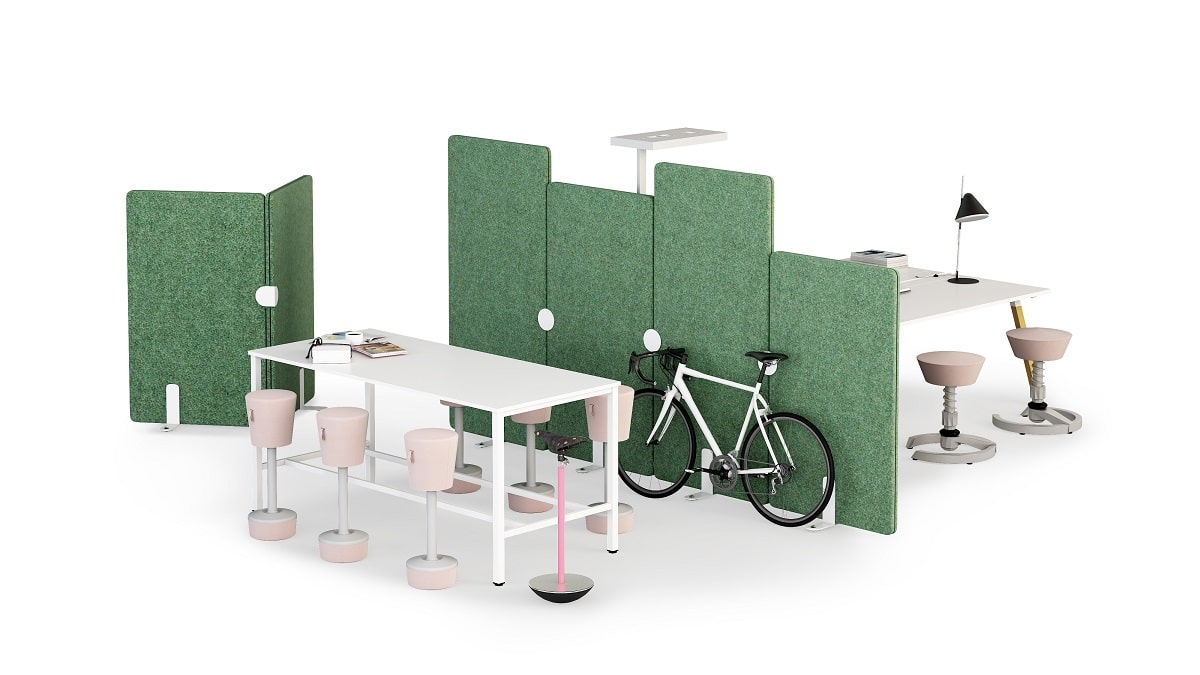 The most popular office layout is open-plan space, which accommodates many employees at the same time. This means having to share space with others as having one's own office is usually only reserved for those in the most senior positions in the company. Open-plan offices have many advantages, such as a better flow of information, easier communication between people in the same department and the ability to accommodate more workstations in a smaller space. However, in open-space based workplaces, there is a challenge in terms of visual and acoustic privacy. The feeling of a lack of confidentiality translates into a decrease in work efficiency, which is why office furniture designers are trying to solve this problem. Read the article and find out how to improve employee privacy in an open-plan office with simple and flexible solutions.
What are the characteristics and challenges of an open-plan office?
According to the definition, an open-plan office is a room without partitions that contains workstations for multiple people. In some companies, such spaces bring together employees from a single department, while in others they bring together employees from across the organisation. The beginning of open-plan offices in our country was in the 1990s. The 1980s saw the emergence of multinational corporations in Poland after the political changes. The open-plan workplace layout has many advantages, especially for business owners, who can rent smaller office spaces this way. Open spaces are also conducive to building relationships between employees and the rapid exchange of documents or information.
However, open-plan offices also present a number of acoustic and visual privacy challenges. Employees often have to work in an environment with a lot of noise, which is caused by conversations, tapping on keyboards and printers or ventilation systems running. Being in a space shared by many people leads to disruptions in communication, hinders concentration and poses data security and discretionary risks during sensitive conversations.
Lack of space for focused work
One of the problems associated with open-plan offices is the difficulty faced when performing tasks that require focus and high levels of concentration. The conversations of people beside you about professional or private topics, the noise of equipment, the chatter and the constant movement of other employees all cause distractions, and this leads to a decrease in productivity and increased stress over short deadlines.
Different temperature and lighting requirements
Each employee is different in terms of needs and character. Some like to be the centre of attention and boast about their ideas or achievements, while others come to work to complete their tasks in peace. Similarly, individuals' preferences for temperature or the colour of lighting differ. In an open-plan office, this can lead to conflicts and a lack of comfort for employees who will be too cold or hot. Companies need to find ways to meet the different needs of their employees in order to maintain a positive atmosphere and job satisfaction.
Open space and the employee privacy crisis
Working in an open-plan office requires being with a variety of people for long hours, where some people behave more loudly than others. In many companies, desks facing each other are not separated by anything. Because of this, those closest can hear what their colleague is talking about and see what they are doing. There is no room for visual privacy here, nor for confidentiality of the information provided. Such conditions can be distracting for employees and can increase stress levels, nervousness and generally have a negative effect on the psyche. Companies need to consider solutions that allow employees to maintain a sense of privacy while still providing easy communication and collaboration.
Why is privacy in an open-plan office so important? The employee's right to privacy
Open-plan offices are ideal for companies looking to reduce their running costs, as they allow smaller spaces to be rented. However, employers should not forget that an employee's right to privacy is a fundamental one, and its protection is important from both an ethical and legal perspective. Taking this aspect into account when arranging the office space contributes to creating an atmosphere of trust and respect, and this in turn influences employee well-being, efficiency and loyalty to the company.
According to the expert
It is the lack of visual and acoustic privacy that many employees point to as the biggest disadvantage of open-plan offices. This often leads to stress, emotional exhaustion and conflict between employees. Sounds coming from all sides or a supervisor or another employee glancing in the direction of the monitor cause a decrease in productivity and creativity, and a feeling of being restricted, making it more difficult to produce good results. Therefore, companies should take care of the possibility of having privacy by looking for appropriate solutions that balance communication, collaboration and the protection of each person's privacy
– says Eliza Donek, Product Manager at Mikomax.