How do you make customers feel comfortable in your office? What furniture to choose?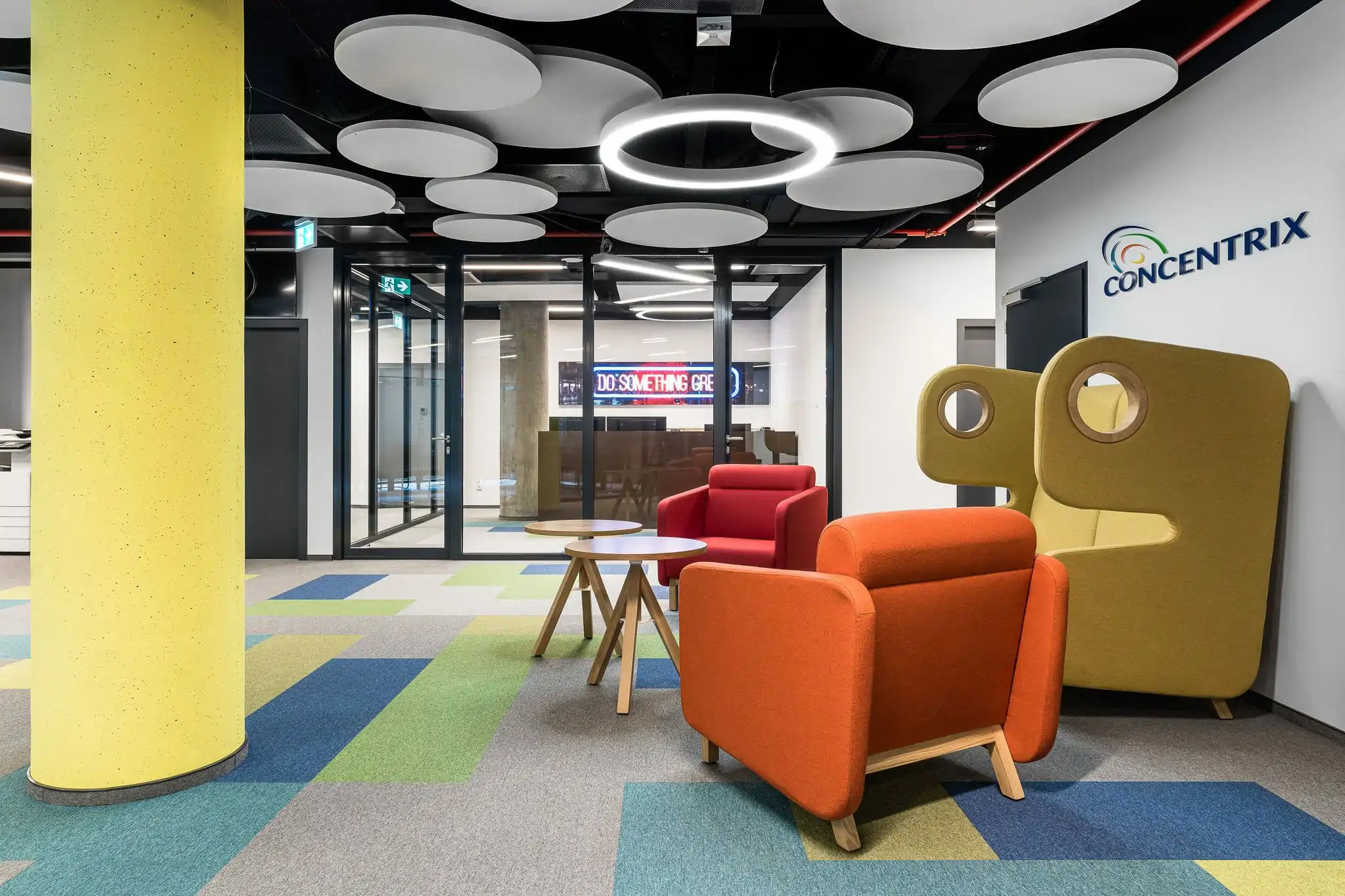 First impressions do matter when building relationship with clients. Offering the high quality of products and services is only part of the job, as firms need to care about the comfort and satisfaction of their business partners during each visit to their offices. Maintaining proper customer service, dress code as well as contemporary and functional office furnishings are just some of the factors that influence visitors' perception of a firm. In this article, you will learn what steps to take to make your clients feel comfortable and which office furniture to choose to create a friendly and professional working environment. Read on to learn more.
Establishing a comfortable environment for the customer – the key to the success of any business
With so much competition in the market, it is not enough just to offer high quality products or services. Winning and retaining loyal customers requires a comfortable and welcoming environment to be set for them. It is difficult to sustain lasting relationships if people are dissatisfied. It is worth remembering that, in the digital age, a single negative review spreads across the industry much faster than even several favourable ones.
What our expert says
A comfortable, friendly and customer-oriented place builds trust, fosters long-term collaboration and boosts how others perceive your enterprise. If someone feels at home in your office, they are more likely to decide to work with you for longer or recommend the organisation to others. By choosing comfortable, contemporary office furniture and introducing the right organisational culture, you invest in the long-term success of your firm
– explains Eliza Donek, Product Manager at Mikomax.
Building customer relationships involves both art and science
Creating lasting relationships with clients requires both empathy and strategic thinking. It takes listening to and understanding the needs and emotions of others. Data analysis skills, good understanding of consumer behaviour and using communication strategies efficiently also make a difference. Combining these promotes strong, trust-building relationships that translate into customer loyalty and the sustained success of your business.
Creating a friendly atmosphere in the office – how to win customer loyalty?
The products or services of many companies are similar and readily available, so it is often with the atmosphere and customer care at every stage of a project that your firm can stand out from your competitors. Make the office your brand ambassador by designing it in line with contemporary trends and using advanced technological solutions. An authentic feel is key: from the genuine smiles of the staff, clear and open communication to the attention to detail, all of which make the customer feel at home.
Professional staff
Even though customers today are looking for high-quality services and products, being professional in all contacts with them remains a major factor as well. The favourable impression you wish to make on people is not only the outcome of the design of your office space or the latest equipment. Your employees' professional and hospitable customer service also makes an impact. Training your staff in this respect so that they are able to meet even the most demanding expectations of your business partners is worthwhile. Despite more and more interaction migrating to the digital world these days, your advantageous market position still depends on genuine interpersonal relationships.
What things are essential for furnishing a reception area?
The first room your customers see and that represents your firm is the waiting area. It is from its design and functionality that visitors draw their first impressions of the organisation. Opt for the comfortable, ergonomic and original soft seating furniture so that sitting time does not drag on for your guests. It is important that the waiting room décor reflects the personality and values of the firm. Don't forget the extras, such as potted plants that add a special tone and improve air quality, as well as awards and certificates on display that highlight the professionalism of the organisation.
Designer sofas and armchairs attract attention and ensure comfort
All offices are provided with a waiting area for clients to spend their time waiting for a meeting or consultation. When designing office interiors, it is worth paying particular attention to the lounge furniture for the entrance area, which should combine high quality, proper appearance and functionality. You will often find seating in the waiting room of most offices that may be stylish, but does not ensure the same comfort as upholstered sofas or comfortable armchairs. These make the waiting time more relaxing for the client. Packman armchairs and sofas are eye-catching and evoke positive first impression in visitors, thanks to their unique design inspired by the character of the famous game. They also provide seating comfort for an ergonomic posture.
Also worth reading: Soft seating furniture. How to create a welcoming space in the office?
What our expert says
Soft sofas for the office, especially two-seater sofas, save space while providing comfortable seating for more people. It is also essential that you keep the colours of the furniture in line with the rest of the décor, and use materials that ensure easy maintenance and durability. Keep in mind that every waiting room can benefit from a well-chosen sofa or armchair as both a practical piece of furniture and a stylish decoration
– adds Eliza Donek, Product Manager at Mikomax.
Coffee table – a small item, a big difference
Apart from seating, a well-designed waiting room should also include a table. Although it may seem like a small item, it has an important role in shaping the comfort and functionality of this space. Not only does it allow you to put down your laptop or have a coffee during a longer wait, but it also helps to clearly divide space into zones, which is extremely important for the comfort of guests. When several customers are waiting, a coffee table can work as a sort of barrier that allows everyone some space and a sense of privacy.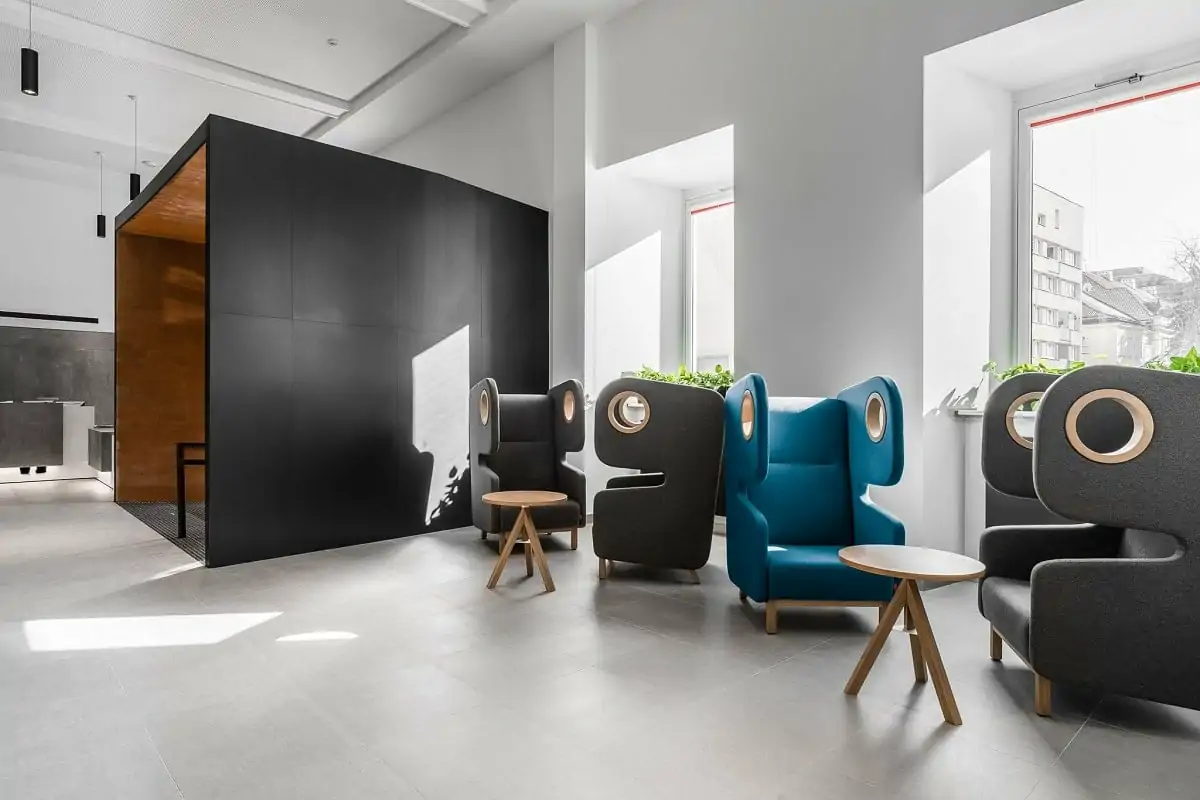 Coat stands – attention to detail
A coat stand in the waiting room is a useful item to have. It also demonstrates your attention to detail and guest comfort. On arrival, every customer wishes to put their outer wear away in a suitable place. Simple-in-form and still functional coat stands not only do this, but also enrich a room's style and can be attractive for your visitors
The reception counter – first impressions count most
In the world of business, first impressions are often decisive. Standing in the centre of the welcoming 'ritual', reception counters should positively surprise visitors and build their confidence in the firm. Latest trends show the individual character of the reception space, combining aesthetics with functionality. The choice of the right colour, high-quality materials and careful craftsmanship help to create a space that is pleasing to the eye. It efficiently inspires receptionists to perform well, while enhancing the visitor comfort. It is at the reception counter that every business interaction begins, and the quality of this can be decisive for further collaboration.
How do you furnish an office that impresses your business partners?
A successfully designed office space involves both aesthetics and functionality. Modular office furniture offers flexibility and the ability to adapt the space to suit current needs, while adjustable open-plan desks and ergonomic chairs ensure that employees are comfortable. Attention to every detail and a creative and functional office design improve efficiency and are bound to appeal to business partners visiting your organisation.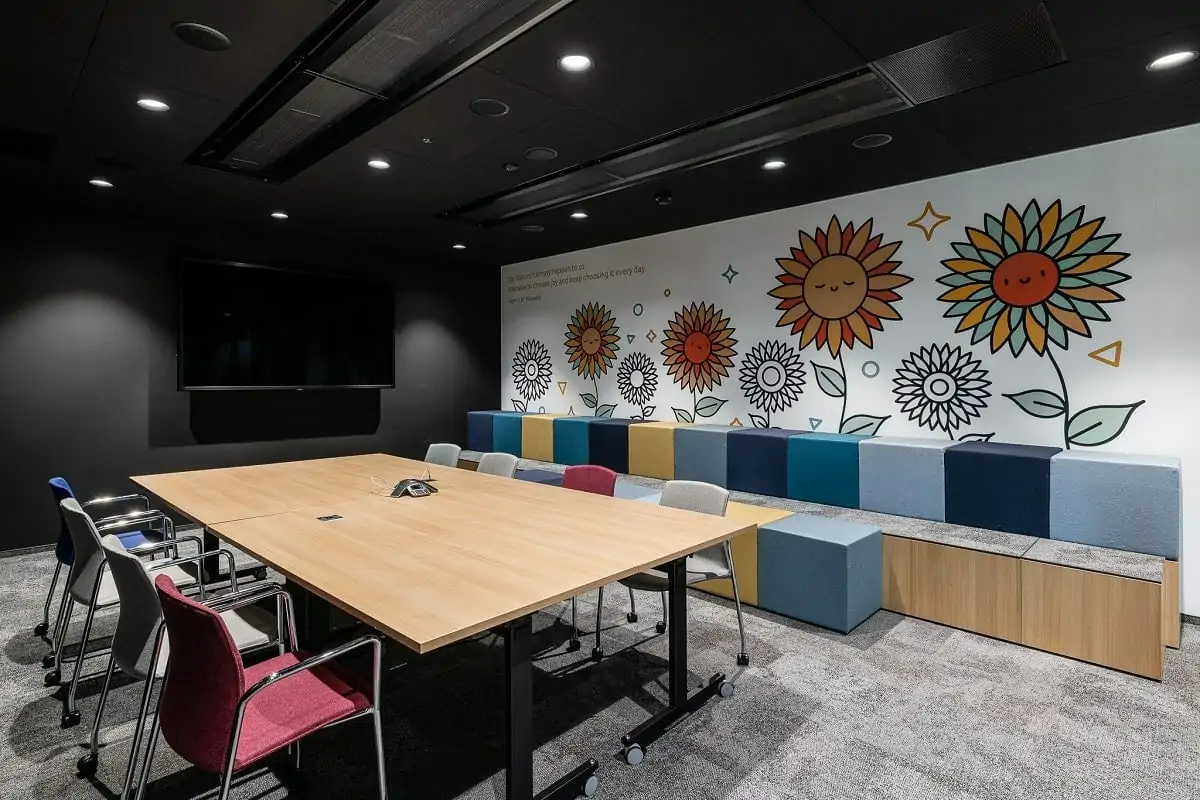 Meeting rooms – arranging a space for efficient and inspiring meetings
The modern office is not just open space divided into functional spaces for team and individual work. Open-plan offices include well-arranged relaxation areas and meeting rooms that can be used for a variety of meeting formats. Meeting tables that use castors for facilitating reconfigurable spaces to suit a variety of needs. Replacing simple chairs with armchairs guarantees the comfort of attendees. However, if you go for conventional office seating, make sure it comes with adjustable backrests and seat height.
Modular acoustic partitions – quiet that promotes focus
Business partners value office furniture that enhances work comfort and serves staff needs. Manual height-adjustable Stand Up R desks and open space noise-reducing mobile office partitions help to arrange such a space.
The free-standing tree-shaped partitions add a unique character to the interior and fit in with contemporary biophilic design. The Soniq mobile acoustic partition system can be used to create areas for breakout teamwork or informal meetings with clients. Thanks to the foot-mounted castors, it is easy to adapt the space to current needs.
Featured article: Space within a space: flexibly with SONIQ portable acoustic partitions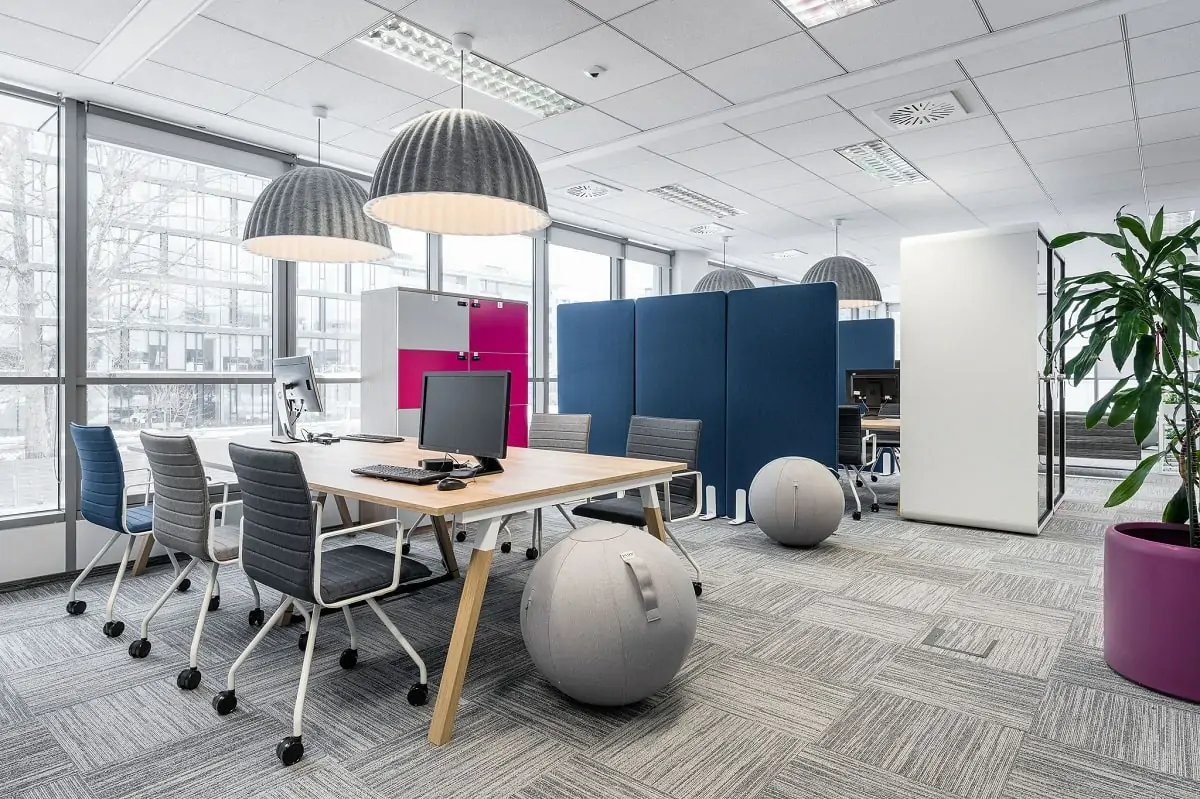 Lighting – the invisible element that can make all the difference
Lighting in the workplace has a huge impact on the atmosphere and comfort of office workers and visitors. Bright but non-irritating light promotes good focus, while warm, soft lighting can create a cosy atmosphere that encourages creative thinking. The carefully designed arrangement of lamps not only emphasises the character of the interior, but can also become a subtle but clear signal to business partners that the entrepreneur cares about every detail, even the tiniest.