First impressions count, or how does office appearance impact your business image?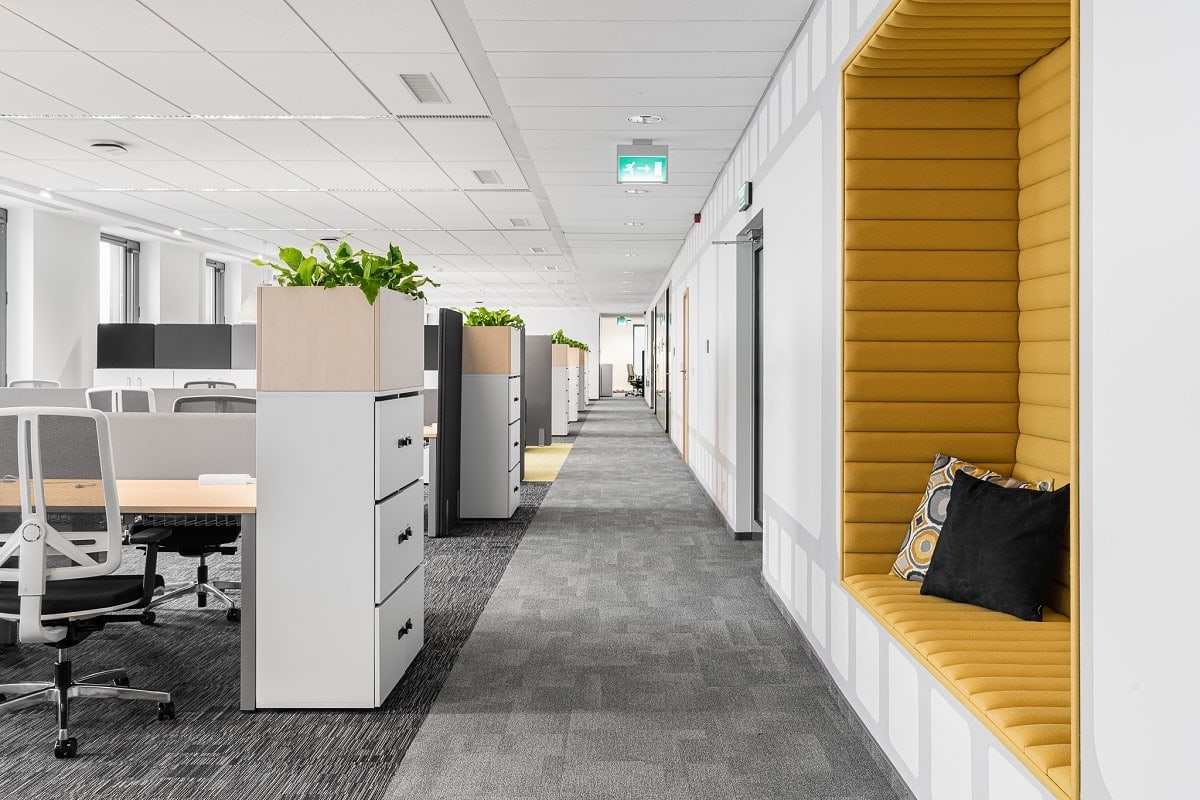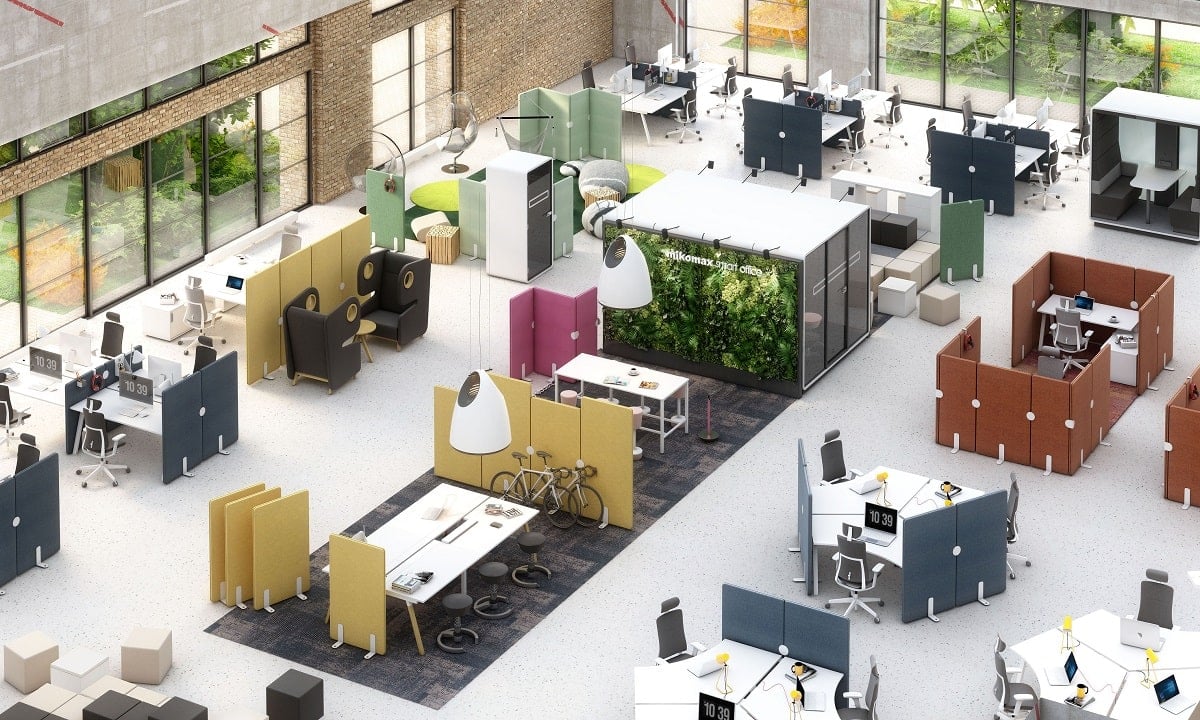 An office made to measure for business. What is wayfinding and space branding?
The modern office inspires teams and makes their daily work easier. Two core concepts in contemporary space design are wayfinding and space branding.
Wayfinding is a space design principle that facilitates navigation in the office, as it improves user efficiency and comfort. Thanks to well-thought-out signs, maps, colours and textures in use, employees and visitors can easily go around the premises.
Space branding is a strategy that involves using architectural and graphic details (wallpaper, logos, light installations) to represent the culture and history of a business. However, these are not marketing or promotion, but part of an employer branding strategy. Its function is to improve working comfort and staff well-being, as well as boost creativity.
Wayfinding and space branding are essential components of a functionally arranged office, and should be intertwined and coherent in their aesthetics and content.
Impressions of customers and business partners
It is in the office space that customers and business partners experience the corporate culture, not only through conversation, but also through the environment around them. The sleek and functional office design, which incorporates wayfinding and space branding, attests to the organisation's modern and professional approach with attention to detail. The nuances of colour, the choice of materials, the arrangement of the space all create a mesmerising and long-lasting first impression. Smart details, suitable lighting, clearly defined areas for working, relaxing and meeting are all components that enhance the perception of the company by customers and business partners.
Employee motivation and involvement
The aesthetics of the office plays a much bigger role than we often assume. Not only does it mirror the company's image, but it also has a direct influence on employee motivation and involvement. And it is not just about ergonomic chairs or modern electric height-adjustable desks. It is more often that employees seek out spaces that support their creativity, communication and well-being. Creative relaxation areas, plants that improve air quality, or inspiring, out-of-the-box solutions such as electronic interactive whiteboards or dry-erase boards can all help to increase employee commitment. Creating such a work environment requires considering both company's profile and employee's needs and expectations, but it will certainly bring tangible benefits.
Recruitment and retention of talent
Today, the ability to attract and retain talent no longer depends solely on salary or development prospects. Increasingly, working conditions and, in particular, working space will play a major role. An office that highlights a company's values and provides a well-thought-out, comfortable work environment can attract the most ambitious candidates and increase the chances of retaining talent already employed. Convenient meeting areas, well-thought-out ergonomic solutions, areas for relaxation or individual work can all contribute to the organisation's perception by its prospective employees. A unique and eye-pleasing office can be a way for businesses to stand out from their competitors.
Office aesthetics that enhance your business image
The days when offices looked the same no matter where you worked are long gone. Today, company space is supposed to reflect the culture of an organisation, including team personality, the company's mission and collaborative spirit.
Office furniture and décor
The right choice of office furniture and suitable décor is essential for creating a positive company image. The aesthetics applied in an arrangement – reflecting the character and values of the organisation – is often what customers, business partners and new employees see first. When choosing office furniture, it is important to pay attention not only to functionality, but also to design, which should harmonise with the overall style of the office.
Colour and lighting
The right choice of colours for walls and furniture can define a brand's identity, influence a visitor's first impression, and improve the mood of employees and increase their efficiency. Well-designed lighting highlights selected interior elements and adds to the well-being of employees. The right combination of these two can transform an office space into a place that is not only functional but also aesthetically appealing.
Space ergonomics and functionality
Thoughtful workstation layout, access to natural light and a choice of furniture that ensures the comfort and health of employees are integral to the modern office. Stand Up R manual height-adjustable desks are an excellent example of products that combine these features. By easily adjusting the height of the tabletop, users can alternate their sit-down and stand-up positions at will. This improves both comfort and health, as it provides for better circulation and lowers the risk of back problems.