Discover the most popular trends in open space design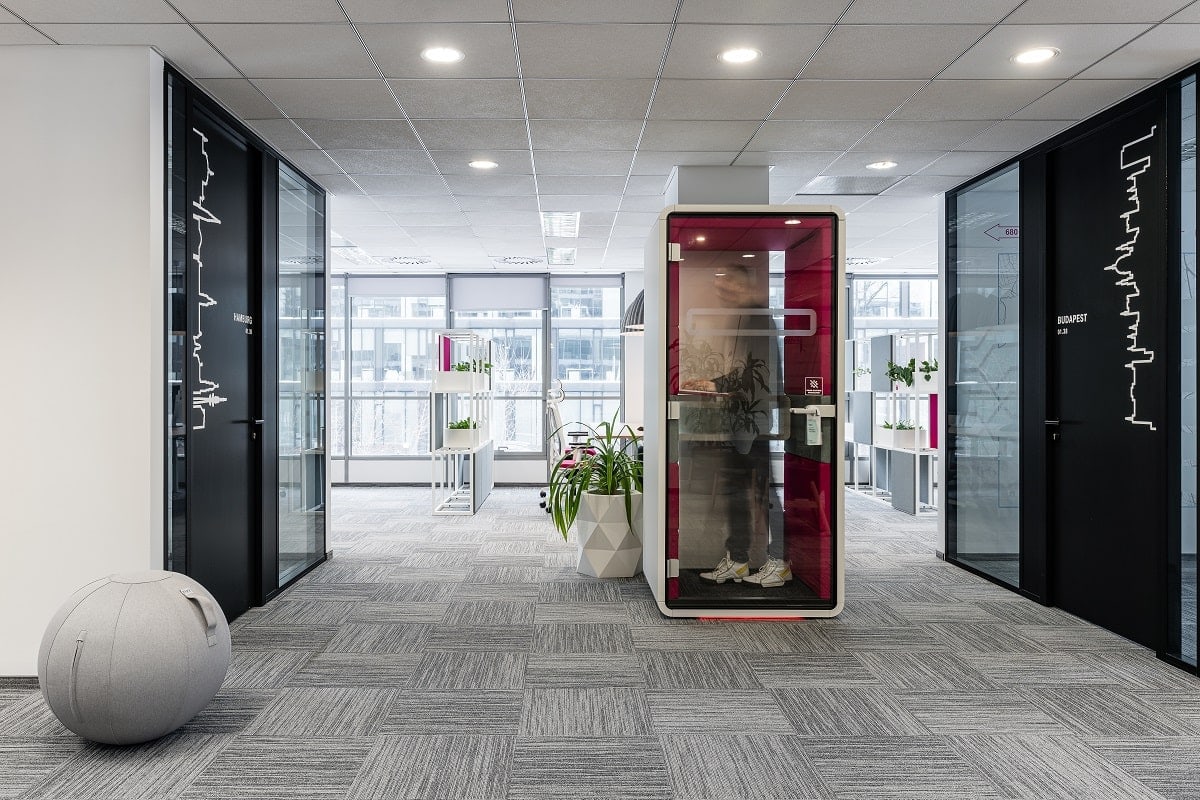 In an age of uncertainty around working patterns and constant changes in the market, both employers and interior designers are considering how to create office spaces that promote efficiency and adaptation to different forms of work. The COVID-19 pandemic has highlighted the need for innovative solutions that enable companies to remain competitive by creating flexible spaces that foster efficient communication and the growing needs of employees. What trends are gaining popularity in open space design within the hybrid working model? What are the challenges of shaping modern open space? In this article, we will outline the key concepts you should be aware of when planning open-plan offices or carrying out a redesign of existing facilities.
What is covered by the term open space?
An open-plan office refers to an open space that is not divided into individual rooms, but combines different workstations in one common area. The concept originated in the United States, where it gained popularity in the late 19th century. Today, it is one of the most widely used office design models around the world. Although an open-plan workplace has its advantages, such as lower rental costs and facilitated communication between employees, the disadvantages of such a space cannot be forgotten. Among the most frequently mentioned are incessant noise, the lack of privacy and problems working with focus. In response to these challenges, contemporary trends in open-space design seek to provide greater comfort while retaining the benefits of this model.
Open-plan office spaces – future or relic?
Open space is a popular design solution in many companies, but the increasing demands of employees and the evolution of working styles have changed the approach to this type of space. In the flexible hybrid model, the office is not only used to perform duties, but is also a place for meetings and education. It is worth noting that employees may declare a greater willingness to work from home when the company lacks space conducive to concentration and meetings in smaller project groups.
According to the expert
The question of the future of open-plan offices is being asked by employers and corporate interior designers alike. There is no denying that they have their drawbacks, which have become more apparent after a period of working from home. In response to these challenges, contemporary trends place a premium on flexibility and individualisation, which allow the space to be tailored to the needs of each employee. Solutions that allow the open space to be divided into functional zones are supported. The open space should include dedicated retreat areas for focused work, creative team brainstorming or holding client meetings. A properly designed open-plan office can be both the future and an effective solution for today
– says Eliza Donek, Product Manager at Mikomax.
Trend 1: Agile offices – a response to current needs
With rising employee expectations and dynamic changes in the way work is done, Agile offices are becoming an increasingly popular alternative to classic open space. The concept is based on flexibility, adapting to the needs of the team and fostering collaboration and communication.
According to the Agile philosophy, zones of different types are set out in the open space, such as areas for individual concentration, communal areas for meetings and spaces for relaxation with comfortable designer sofas. The Agile workplace responds to the diverse demands placed on employees, which include not only working on one type of task, but also video conferencing, phone calls or projects with a larger team.
The modern open-plan office is supplemented by additional spaces such as meeting rooms, spaces for conceptual work or short departmental meetings, or online meeting rooms. Acoustic cabins can be ideal for this purpose. Properly designed and organised Agile offices provide not only a space to work, but also a place that fosters creativity, skills development and team integration.
The mobility and expandability of arrangements
Flexibility is a key aspect of modern office spaces. Companies are increasingly relying on solutions that enable them to quickly reorganise their interiors and easily adapt to new challenges and employee requirements. It is worth reaching for modern modular furniture – the Ligo cube system will be perfect. This modular furniture allows you to build your own, and easily change, your surroundings. It provides a great deal of flexibility in configuring the space and allows for the quick and easy creation, modification or removal of space for individual, collaborative or relaxation work.
Modular furniture and mobile partitions are readily used in Agile office layouts. They allow a great deal of freedom in configuring the space and the ability to quickly and easily create or modify spaces for different types of work duties. The Soniq mobile wall system has castor feet, so it keeps pace with the rapidly changing working environment, while guaranteeing an improved sense of privacy and acoustic isolation.