What equipment do multifunctional meeting rooms need?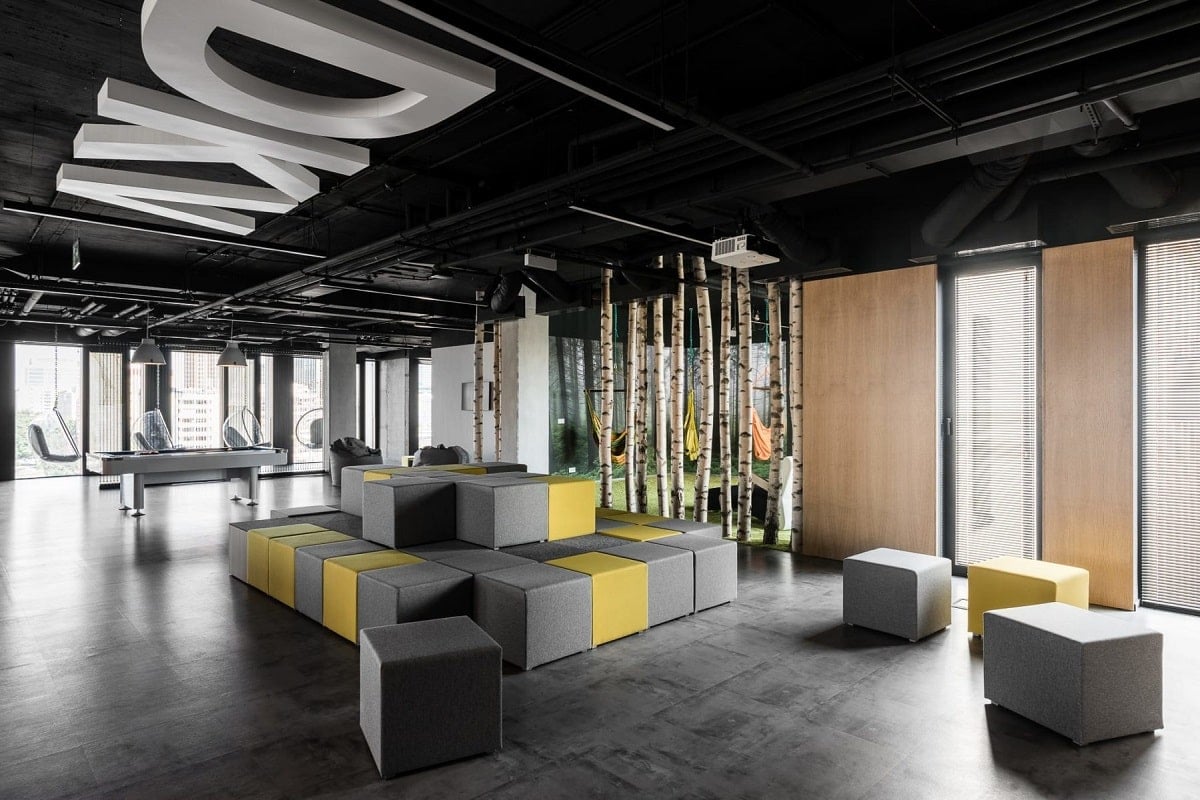 Keeping today's meeting rooms up to date is challenging as a result of a rapidly changing reality. High-quality equipment, excellent sound conditions and flexible space are a must to meet the expectations of organisers and attendees of both in-person and on-line meetings. Now that flexible work is becoming increasingly popular, meeting room arrangements need to be redefined in terms of multifunctionality, mobility and adaptability to current needs. What components are worth introducing in such a space to meet the demands of the modern world? Does design matter? How does technology affect the comfort and efficiency of meetings? Please read this article to find the answers to these questions.
What should multi-functional meeting rooms be like?
The multi-purpose meeting room is a space that can be adapted to the diverse needs and requirements of its users. It is no longer just a room with a projector and whiteboard to hold a conventional business meeting. The meeting room of today combines modern technology, flexible arrangement and comfort. It can be used as a space for video calls, workshops, presentations and even informal meetings in a relaxed atmosphere.
When designing a multi-purpose meeting room, it is important to consider the ability to adapt it quickly to current needs. This regards both the technical equipment (projector, multimedia projector, internet access, sound system) and the design of the space.
Mixed-use meeting rooms: one room, multiple uses
In response to the rapidly changing needs of employees, mixed-use meeting rooms are becoming increasingly popular. Their proper arrangement in the office supports work efficiency. During the pandemic with restrictions imposed on face-to-face meetings, meeting rooms had to be adapted to the new reality. High-quality equipment, excellent acoustics and flexible space have become essential conditions for a comfortable environment for both in-person and on-line meetings.
Mixed-use rooms are designed to easily adapt to a variety of needs, from classic business meetings, presentations and training sessions to cultural events, workshops or webinars. With the use of modern technology and flexible equipment at hand, it is possible to quickly adapt the room to what is on the firm's agenda.
Rooms for most effective briefings, video calls and meetings
Multi-purpose meeting rooms are spaces designed to have both classic and modern forms of communication such as meetings, briefings and video conferences. The equipment in these rooms must be thoughtfully designed to meet different needs and ensure the comfort of all participants. Office furniture should be ergonomic and adapted to people's physical needs.
What our expert says
Lengthy meetings require setting up comfortable seating in the meeting room, allowing participants to focus on the agenda rather than the inconvenience of uncomfortable posture. Additional facilities such as access to good Wi-Fi, flip charts or interactive monitors are also worth bearing in mind. Plants and artwork will also help create a friendly atmosphere which contributes to fruitful discussions
– explains  Eliza Donek, Product Manager at Mikomax.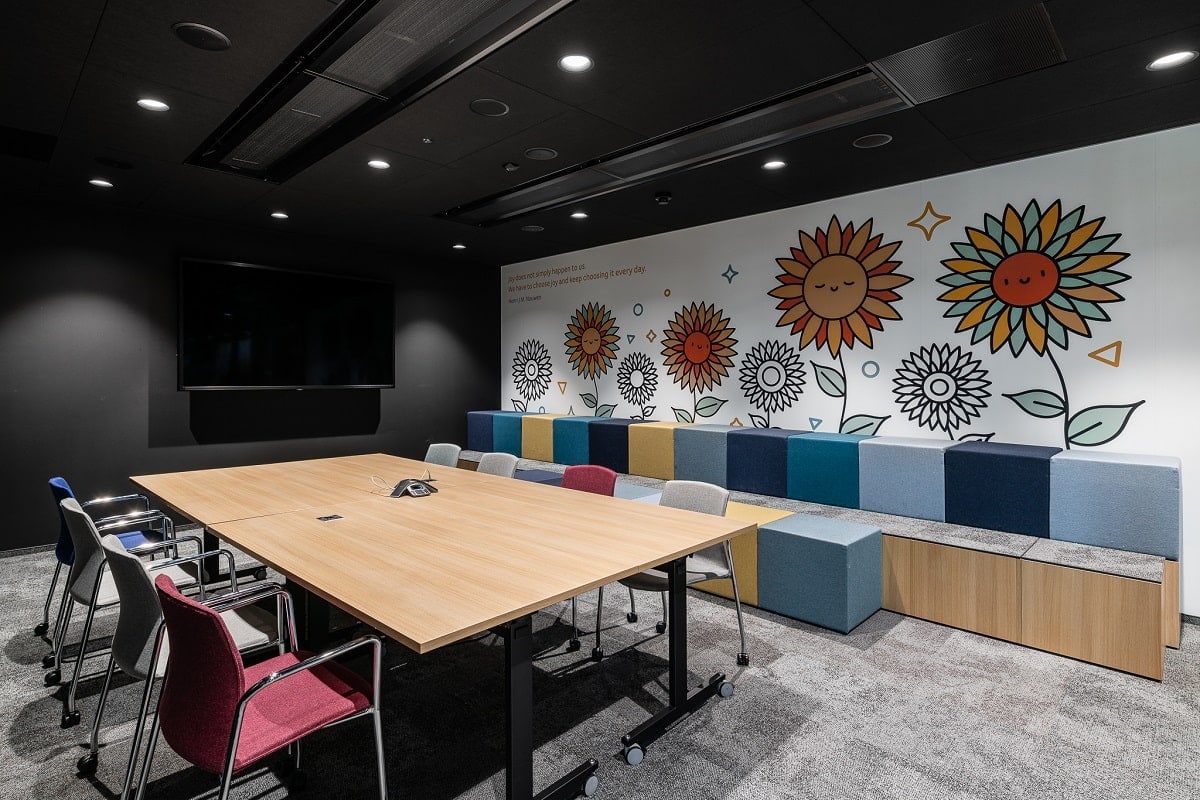 The contemporary meeting room: a representative place and a working tool
Not only does a modern meeting room showcase your firm's professionalism, but it also provides an important workplace, as it supports communication and collaboration. Its design and functionality can attract potential customers and increase the efficiency of the team.
The role of technology in today's meeting rooms
In the hybrid model, advanced meeting-room technology promotes efficient communication in scattered teams. Advanced audio-visual equipment, excellent acoustics and interactive whiteboards support you to hold high-standard meetings regardless of the distance between participants. Thanks to technological innovations, meeting rooms have become advanced communication centres that foster the exchange of ideas, creative problem-solving and effective project management.
The meeting room as a storytelling tool
Today, meeting rooms have evolved from simple meeting places into sophisticated storytelling and branding tools. The design and arrangement of these spaces are key for communicating the values, mission and vision of the organisation. The meeting room is the stage for many business decisions, presentations and discussions. Through the use of right arrangement and multimedia to stimulate the imagination of the participants, the room can be transformed into a setting for storytelling.
What should you bear in mind when arranging a modern meeting room?
In addition to contemporary, ergonomic furniture used when designing an employee-oriented meeting room,  appropriate lighting and ventilation should be provided to ensure that participants experience comfortable work conditions in training sessions, business meetings and team brainstorming sessions.
Lighting that can be adapted to suit different needs will help to create the right atmosphere to stay focused and encourage creativity. Ventilation, on the other hand, guarantees fresh air in the room, which is essential especially during longer meetings.
Meeting room design should not be underestimated. It is more than just the look, as it involves functionality and consistency with the image of your firm. Contemporary office arrangements combine elegance with utility, as they create spaces that help solve issues, exchange ideas and establish relationships. A state-of-the-art meeting room reflects what an organisation values and pursues.
Multi-purpose meeting room – how to furnish one from scratch?
A multifunctional meeting room is a vital area of any office of today. In order to furnish it properly, a few key aspects must be considered. When choosing furniture, it is best to opt for ergonomic chairs and tables that can be easily adapted to different needs.
Maximum furniture mobility and reconfigurable functions and arrangement
Setting up a multifunctional meeting room is the task of creating a space that is both functional and flexible. Modular office furniture, quickly adaptable to different needs, plays a key role in accomplishing this. With the Ligo modular box system, it takes just a few moments to transform a conventional meeting place into a space for creative workshops, presentations or smaller group discussions. They feature reconfigurability, as well as boast contemporary aesthetics and design.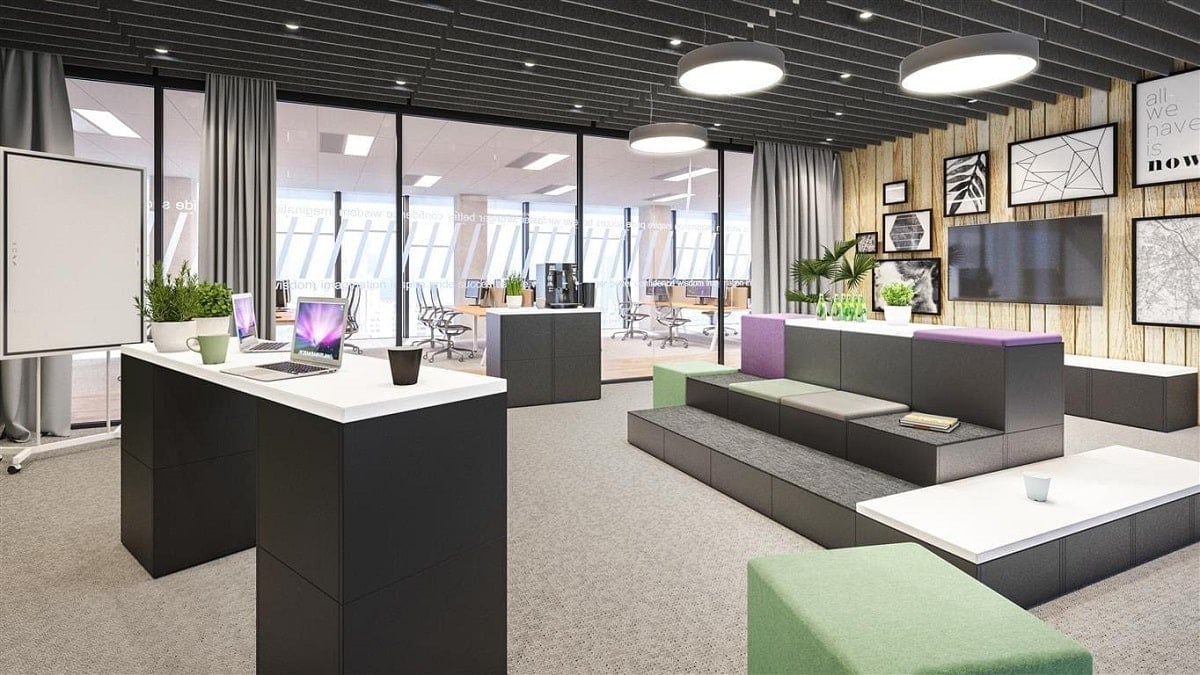 How to soundproof a meeting room?
In order to ensure comfortable communication and focus during meetings, adequately soundproofing and dividing the meeting room into different zones is necessary. To reduce sound disturbances efficiently, use advanced acoustic solutions. The Soniq mobile acoustic partition system will do the task. They allow you to dynamically adapt the space to current needs while isolating sounds. Their come in numerous colour options for you to choose the matching hue for the room.
With practical castors fitted in the stabilising feet, these walls can be easily moved around and adapted to different room configurations. Free-standing tree-shaped partitions are an attractive variant that, apart from absorbing sounds, impart a touch of nature to the interior.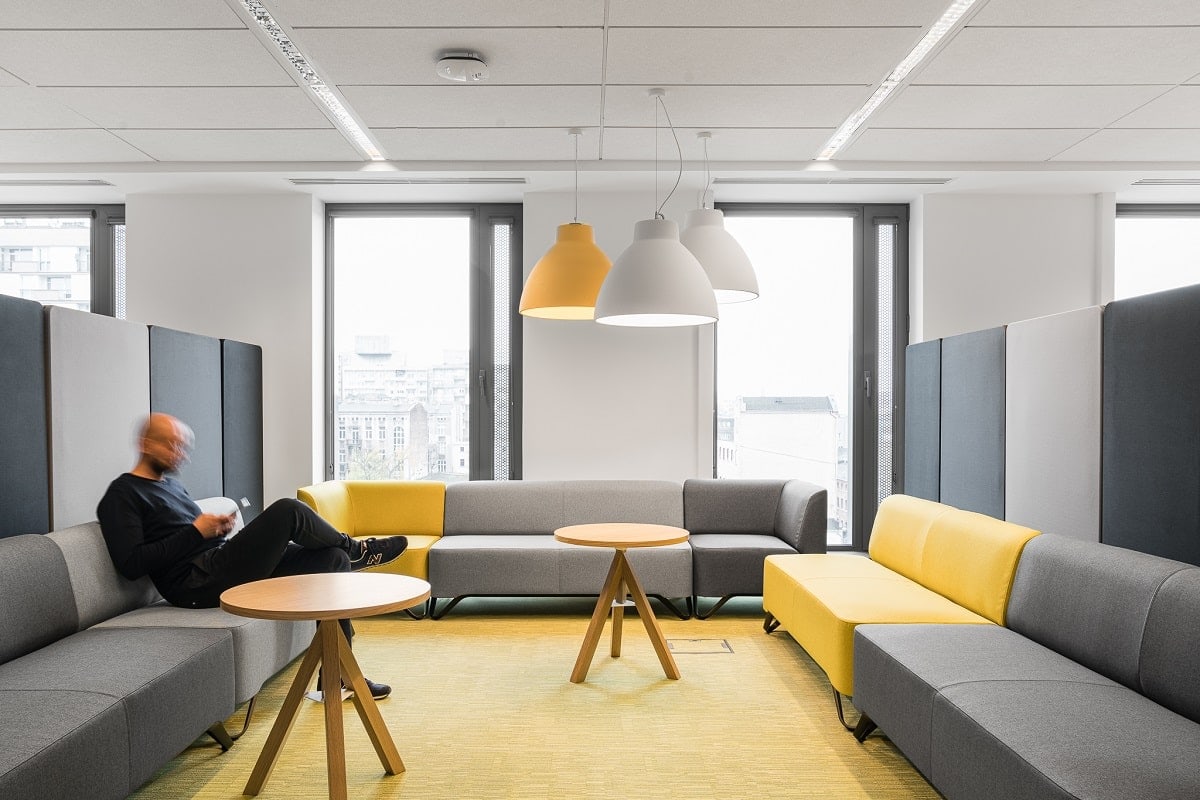 Choosing the perfect table – the core of a multifunctional meeting room
Standing at the centre of the room, the meeting table is the focal point for all activities. Searching out the ideal piece of furniture involves finding a match with the overall décor of their office, and even more importantly, with the needs of the users. Multifunctional meeting rooms are used for both large meetings and one-on-ones, so flexibility in solutions is essential. Flipper folding tables, fitted with castors, are worth considering. Their feature of being easily reconfigured and connected ensures trouble-free customisation to the number of participants or the type of meeting.
Replacing chairs with armchairs in a meeting room – is it a good idea?
Recent trends show classic office chairs are giving way to more comfortable armchairs. Thanks to their design, they provide a higher level of comfort during longer meetings or presentations. They also seem to convey the high status and level of advancement of the firm.
However, it is worth bearing in mind that soft seating furniture takes up more space than ordinary chairs, which can be an obstacle in smaller rooms. Therefore, their functionality, design and easy reconfigurability must be given proper thought.
Soft seating furniture: creating a space for relaxation and informal meetings
The multifunctional meeting room is not only a place for having formal meetings and presentations, but also a friendly space for having a chat of relaxing. The designer Packman armchairs will add chic and comfort, creating the perfect environment for a relaxed exchange of ideas. Comfortable pouffes, sofas and modular seating sets encourage creative discussions in a friendly atmosphere.
Thanks to upholstered furniture, a meeting room can become a place where employees or business partners enjoy spending time, holding informal discussions or relaxing between meetings.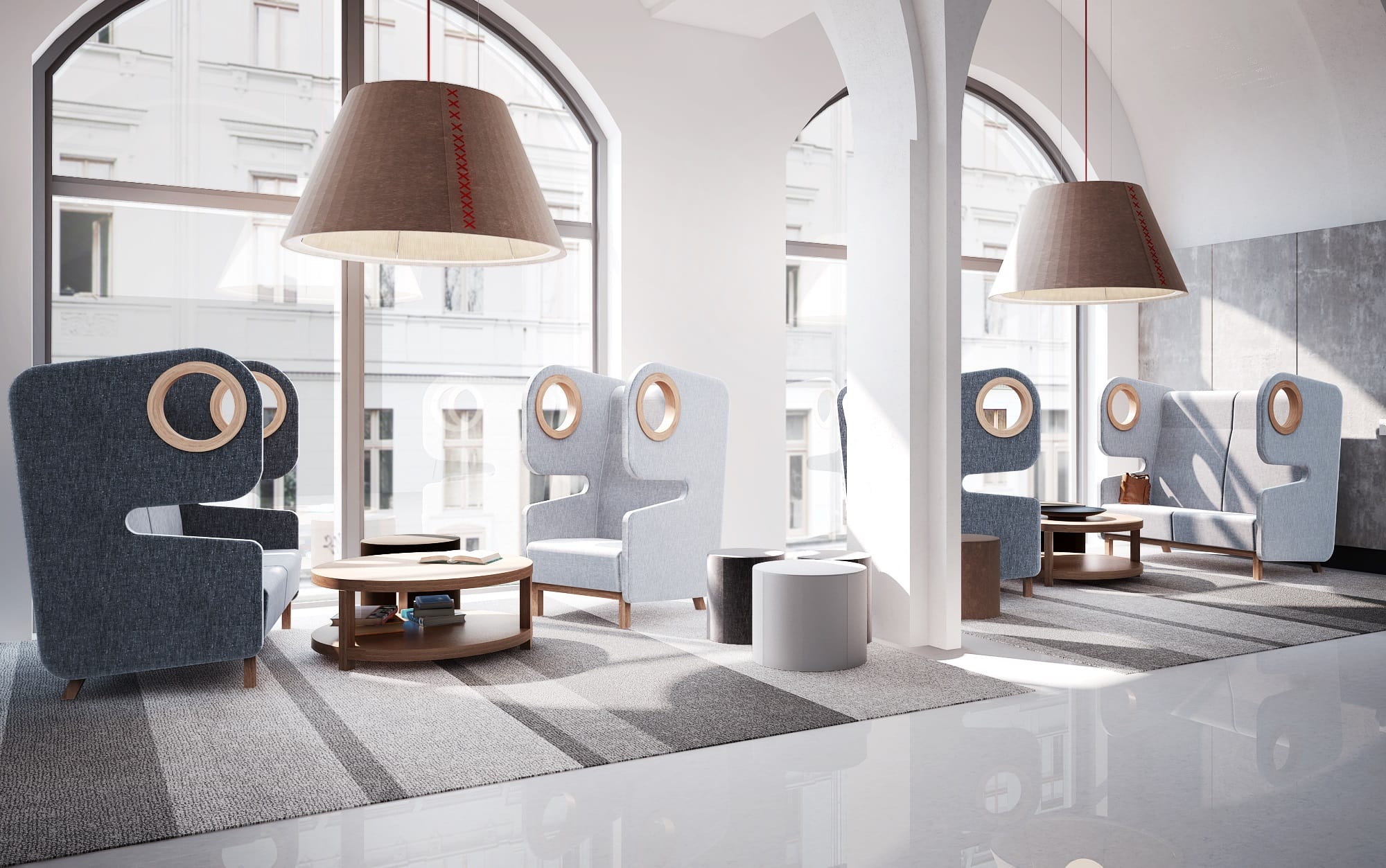 How do you choose additional items of equipment that will increase the functionality of the meeting room?
First of all, you should invest in modern audiovisual equipment so that presentations and the sound are clear. A good quality camera and microphone are essential for video calls. It is also worth thinking about extras, such as interactive whiteboards or room booking systems, which will make it easier to organise and deliver presentations. And don't forget the small details that improve the atmosphere during a meeting. Although they may seem like a trivial addition, plants have a beneficial impact on creating a welcoming environment.